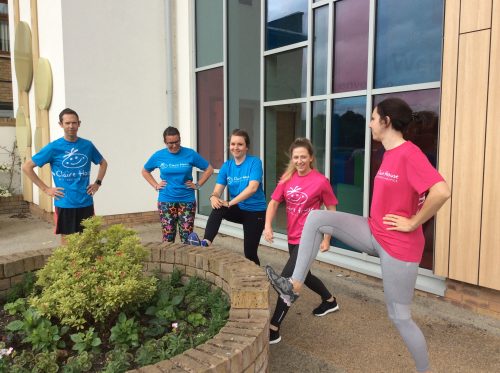 With just over two weeks to go until the Claire House team take on HellRunner, the final bits of training have been taking place.
The Claire House team includes individuals from all across the hospice, from fundraisers to care staff to our Chief Executive.
Hell Up North is an extreme mud run, taking on Mother Nature in this intense half marathon, involving Lucifer's Lido, the notorious Bog of Doom, the Hills of Hell and Devil's Disco.
Our fantastic team have been put through their paces in the Claire Bear Boot Camp. To get everyone taking part as excited as the team clearly are, we wanted to share some footage of the team as they got stuck into training.
If you go down to the woods today…
While the woods might be a common place for Claire Bear and her friends, our HellRunner team have been getting used to this unfamiliar environment.
Tackling the great outdoors, the team have had to 'prepare' themselves for trekking through Delamere Forest.
Training Every Part
We understand the importance of training and Claire Bear took this on board by ensuring the team were training muscles they might not think about.
Some of them were happy, while Claire Bear had to encourage others.
Challenging Obstacles
To prepare for the likes of Hills of Hell or Lucifer's Log Run, the Claire House team have been tackling obstacles.
Sure, this might not be the same as running across slippy logs or climbing up steep hills but surely it is using the same muscles right?
Never Underestimate the Great Outdoors
During their training with Claire Bear, the team were taught that you should never underestimate what you might come across, especially in HellRunner.
(Please note, Claire Bear was just playing and is a harmless bear)
Ready to get muddy? Take on HellRunner
There are still a couple of weeks left for you to sign up for Hell Up North. So don't miss out taking part in this extreme mud run – sign up now.
You can also find out what the Claire House team are most and least looking forward to when they take on the half-marathon challenge: Claire House gear up for Hell Up North