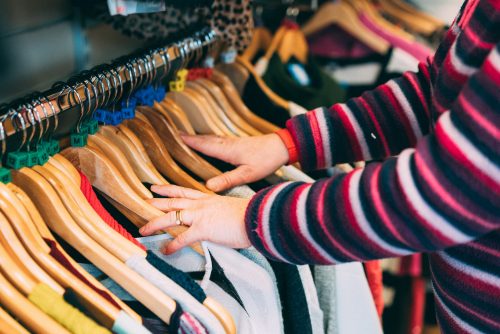 You'd think you'd remember the day you sold a big purple stegosaurus wouldn't you, but it's just another day and just another transaction at the Claire House Charity Shop in Mold.
One minute it's a dinosaur, the next a pair of binoculars, or on very rare days a pair of red-soled Louboutin stilettos. No matter how big or how small the price tag every penny counts when it's for such a good cause.
People wander in just to peruse the bargain books, DVDs and CDs, but get waylaid by the 'perfect' jacket or the 'must-have' handbag that just scream "buy me" from the constantly renewed stock on the rails and shelf displays.
There are regular customers hunting down classic vinyl records, others who are jigsaw buffs, and more who are drawn magpie like towards anything shiny or glittery. They hover over the glass covered counter cabinet inspecting bracelets and brooches. They might try on a ring or two gazing at the trinket on their finger as it sparkles under the overhead lighting.
One lady is besotted by watches. Trying on one after another as time ticks away towards her next purchase.
Some children play the 'I must have' game smiling oh so sweetly and expectantly at nanna until she gives in and buys a toy, or they let the halo drop and stamp their rebellious feet in full tantrum mode when the answer is no.
No such tactics from one little chap. No pestering from him. He asked for nothing, but is leaving with a bright purple stegosaurus and a delighted smile.
"That'll be £1.49, please," I say removing the gift aid sticker ensuring Claire House Children's Hospice is getting a couple more pence in the coffers.
Suddenly the door swings open as a man heavily laden with bags of donations bundles in. We are always grateful for anything brought in, but not for the icy blast that blows in with him which wafts the curtain that separates the tidy racks and rails of the shop floor from the organised mayhem on the other side that only the staff are allowed to see.
It's a different world behind the curtain where bags of donations are sifted through and sorted. Rails full of shirts, dresses, jackets, trousers and bedding are meticulously steamed and price-tagged.
And it's here boss-lady Angie and her assistant Julia rule supreme deciding on what goes where. Only the best condition clothing, shoes, handbags, toys and bric-à-brac make it through to the shop, and our customers know that.
Some tell us how much they appreciate the bright cleanliness of the place, the artistic flair of the window display, and the friendly welcome they've grown to expect.
Sometimes people forget it's a charity shop and pick up a pair of shoes saying "Have you got these in a five and a half, or they ask if we have a jumper in another colour.
Occasionally they'll ask about Claire House itself, and it's in moments like that when it makes it all worth while giving up a few hours a week to volunteer.
You're certainly never twiddling your thumbs. There's always something that needs to be done. We've been playing our own version of  'fortnight' in our charity shop long before it became so popular with young gamers. Nothing is out on sale for longer than two weeks so the stock is constantly updated. Then there's the titivating. Adding those little touches to make displays look more eye-catching, and of course there's always someone on till duty to accept donations or to take payment for goods.
All the time boss lady Angie is running two worlds from both sides of the curtain.
"Of course you can have a refund, Madam, because you kept the receipt, but can we interest you in anything else from the shop."
"The book man's here," comes a call from the bowels of beyond,  and she disappears again to oversee old stock leaving and new stock coming in.
We take a minute for a welcome cuppa then a young woman, who is barely a Size 10, wants to try on a show-piece dress currently adorning a mannequin in the window.
It's a perfect fit as she steps out of the changing cubicle for a second opinion.
"Wow! You look amazing," I say and it isn't a sales tactic. She really looks stunning in a gown that would grace any Captain's table.
Minutes later she leaves with her purchase in a Claire House carrier bag and a big smile on her face, while I key £39.99 into the till and tell Angie we needed a new dress for the window.
Just another day, just another customer, just another frock, just another dinosaur. Job done!
Kindly written by Jo, one of the shop volunteers in the Claire House shop in Mold.
If you would like to become a volunteer at Claire House, whether that is in our shops, supporting fundraising events or helping at the hospice, please get in touch.