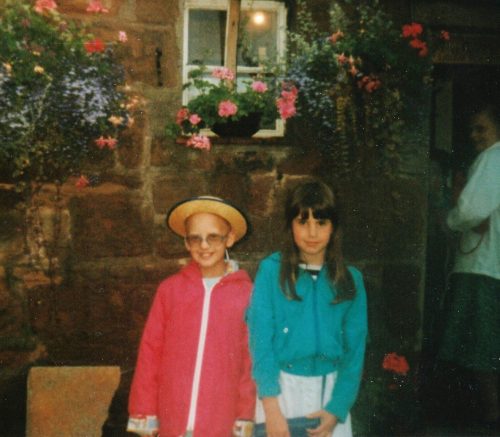 Joelle Fenna's best friend Claire died of cancer when they were young. On Joelle and Claire's 40th birthday year, Joelle wants people to sign up for the 40 for 40 charity run she has helped organise to raise money for Claire House, the hospice that carries her friend's name.
"I met Claire on her first day when she moved to New Brighton Primary School. We sat next to each other and became great friends.
"I was just three weeks older than Claire. She got ill with a tumour behind her nose and eye when I was eight I remember the first time I went to visit her in hospital. It was hard seeing her unwell, but she was so strong.
"Claire was very clever and very funny. We were quite competitive but in a nice way. We always wanted to get the highest marks or see who did their spelling test the best.
Claire sadly died in 1989. Despite moving to Scotland, Joelle kept in touch with Claire's mum and dad, Chris and Bobby Cain, who fundraised tirelessly to raise the money to build Claire House.
The children's hospice, that opened in 1998, provides seriously and terminally ill children and their families with medical care and emotional support that was not available to the Cain family when Claire was alive.
"I visited the hospice quite soon after it opened with Chris, then I came again recently. It's amazing and has changed a lot over the years. I've also been to the new day-care centre in Liverpool. It seems such an amazing, calm place, that would make a brilliant hospice.
"For my 40th I wanted to do some fundraising for Claire House. I asked Chris if she was doing anything to mark Claire's birthday, and she said yes. I knew that lots of people from Claire's old school year would also want to do something.
"Our plan is to raise £40,000 for Claire's 40th – 40 for 40. There has been a ripple effect, with lots of people getting involved from schools, churches and community groups.
"The money raised will go on music and care at the hospice. Claire and I really bonded over music. We could both play the piano a bit, and I played the violin. When she was ill we spent a lot of time together doing music on her keyboard, that I still have.
"We wanted a big event that brought people together. Doing a run from the hospice to Claire's memorial tree in Vale Park that is so close to New Brighton Primary where so many of us spent our childhood seemed the perfect tribute.
"The thirteen-and-a-half-mile run will be a really big challenge for us but having a two-mile fun run and cake at the end of the route means lots of people can get involved.
"It's fantastic that the memory of Claire's bravery and spirit lives on and she is still inspiring people and bringing us together."
Claire's 40 for 40, run and fun day Sunday 30th June, 2019 and is sponsored by Wirral Chambers of Commerce.
To find out more about the event click here.