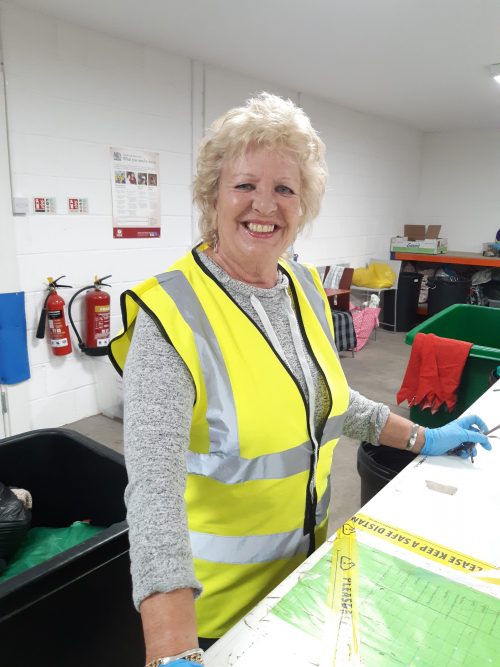 Sheila is our wonderful stock sorting volunteer at the Donation Centre and also at our Liscard shop. Sheila joined Claire House as the country started to come out of lockdown, and we're so glad she did.
Why did you sign up as a Claire House volunteer?
Lockdown was a very hard time for people like myself living alone. The world started to wake up and I found all my usual outside activities had stopped. A friend Sylvia suggested I volunteer for Claire House Donation Centre which had just reopened and assured me it was Covid secure.
How did you feel about volunteering during a global pandemic?
On my first day I was quite nervous but the manager, Sara and Adrian gave me a very warm welcome and due to all the Covid safety procedures in place I felt totally safe.
 What do you most enjoy about your role?
I enjoy sorting the donation bags and bric a brac, it's like a treasure hunt as you never know what you will find. I love working in the shop talking to customers and laughing with the manager, Angie and the other girls. Working as part of a fundraising team for poorly children feels amazing .
 What does volunteering at Claire House mean to you?
Volunteering has given me my life back after Covid. I have many new friends I enjoy being with. I have a focus to my day and even a new
social life.
What would you say to someone considering volunteering?
Don't sit at home alone with too much time on your hands, join the Claire House team like I did a decision I will never regret.
You can see all of our latest volunteer opportunities and to find out more about volunteering Claire House here.