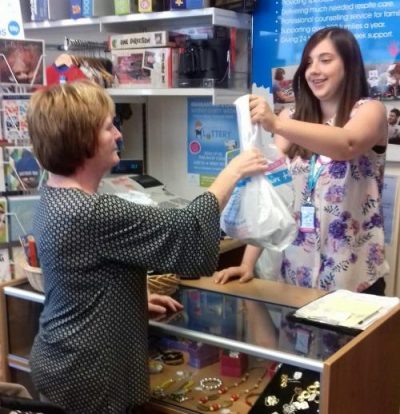 Volunteering doesn't have to just benefit the organisation you are volunteering for. It can also be beneficial to the volunteer themselves, helping them to feel more confident, make new friends and improve mental health.
Louise Armstrong, 24, is someone who has seen the rewards that volunteering can bring.  Louise who volunteers in the Claire Houses shop in Prestatyn hasn't always had an easy journey.
Louise's journey to where she is now begun about a year ago. Before Louise decided to volunteer she was suffering from depression and anxiety. She found it difficult to want to do day-to-day activities and leave the house. With Louise being stuck in a rut, her mum suggested she volunteered some of her time to a local charity. Although initially not fond of the idea, Louise decided to give it ago.
Joining Claire House
Louise started volunteering for 3 hours a week. To begin with, she was only working in the back of the shop as she was too nervous to interact with others on the shop floor. After Louise had settled in, she then decided that she wanted to be at the shop more often and took the brave step of working on the shop floor. Shop manager, Nicola Dettlaff saw that Louise had great potential and tried to help build her confidence.
Nicola decided to show Louise the ins and outs of what goes into running a successful shop. She showed Louise how merchandising and pricing works. With Nicola's help, Louise's confidence grew and she started working on the till and interacting with customers.
Louise is now working part-time doing merchandising. Volunteering has completely changed her outlook on life and has given her the skills and the confidence to go into employment.
Volunteering at Claire House
If you would like to gain new skills and qualifications, meet new people and help make a difference to seriously ill children, why not consider volunteering for Claire House? We have over 47 individual volunteer roles across our hospice, shops and fundraising events. No matter what ability, experience, interests or reason for volunteering, we're sure to have an opportunity to suit your individual needs. To find out more please visit Volunteering at Claire House.