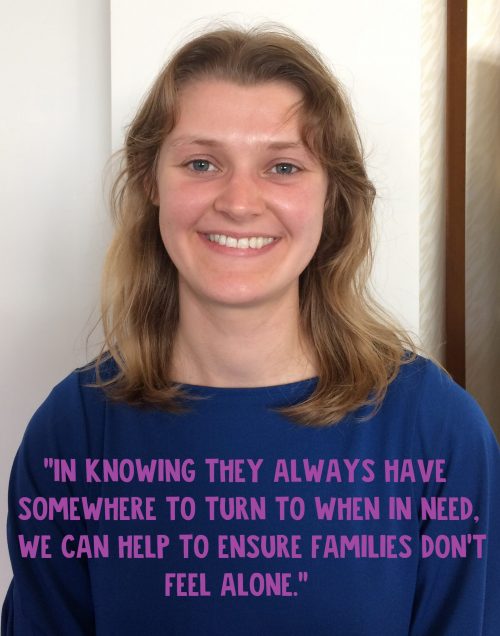 Meet Rachael, a junior doctor, who volunteers at Claire House.
Why did you choose Claire House to volunteer?
I'd met families and children supported by Claire House through my work as a junior doctor and had heard how much of a difference the hospice had made to their lives. I could see that the support offered by Claire House meant so much to the individuals and families, knowing they had somewhere to turn to and valuing the commitment and dedication of the staff making this possible.
The opportunity to volunteer at Claire House felt like a privilege, and has been something I have really valued – it's been very humbling to work with such a fantastic group of people who are so dedicated to their work and to providing the best possible care for every individual family member.
What made you decide to volunteer?
Having the opportunity to volunteer for such an amazing organization has been such a valuable experience. I was hoping to be able to give back a little to an organization which works to make a difference in the lives of those they work with and which had provided such an important source of support to the families and children I'd met, and it's been very humbling to have been given such a special opportunity.
What is your favourite part about volunteering?
Working with the amazing group of children and families at Tots has been a wonderful experience! The staff at Tots work so hard and make each session enjoyable, fun-filled and supportive. It's been lovely to have had the opportunity to be a part of this. Getting to know the children and their family members through each session has been the best part about volunteering, and it's been amazing to see their strength and resilience, and to have fun making different arts and crafts, enjoying a singalong and having the chance to talk with individuals during the group session.
It's also been really nice to work with the amazing staff at Claire House and to see how committed they are to providing the best care possible to all of the children and families – it's really inspiring to work with such caring and dedicated individuals.
What would you say to other people considering volunteering?
Volunteering has been one of the most special and enjoyable experiences I've had – I'd say if you're thinking of volunteering, go for it, as it'll be an experience you won't forget, you'll meet some amazing people and you'll be a valued member of the team.
What does volunteering mean to you?
It's meant a lot to be a part of all that Claire House does for the children and families they look after. I'm so grateful for the opportunity to have been able to work with such a great team and with the amazing children and families at Tots, and can't thank Claire House enough for allowing me to be a part of their team.