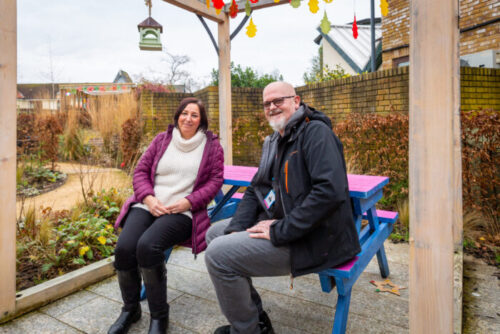 Grandparents Debbie and Doug Parry were heartbroken after their grandson Ewan died from a brain tumour, but thanks to Claire House Children's Hospice they have a reason to smile again.
"Ewan was five when he started radiotherapy for his brain tumour and, as he had to be at Clatterbridge Hospital every day, he lived at Claire House for several weeks with his mum. That was our family's first introduction to the hospice, and they've been there to hold our hands ever since," said Doug.
Ewan died at the hospice in January 2015 – two weeks after celebrating his seventh birthday on Christmas Eve.
"Our family were shattered by the loss, and we felt that we just had to give something back in his memory," explains Debbie.
Nanny Debbie and Grandad Doug now spend one day a week volunteering their time in the Claire House gardens and Debbie will soon start helping out in the hospice kitchen too.
"Volunteering has helped us cope with the grief in some way. It helps a little bit with giving back the goodness that they gave us. Just putting a smile on a child or parent's face makes our day.
"We love being in the garden at Claire House, seeing the seasons change and watching the flowers grow that we plant. It's amazing to see the daffodils everywhere in Spring and watch the hanging baskets bloom," said Doug.
Before volunteering as a gardener Debbie volunteered her time in her local Claire House charity shop, after deciding to do something positive in Ewan's memory.
She explained: "To begin with I basically just wanted to stay in the back and do the sorting but my confidence grew so much, I was soon out in the front of the shop chatting with customers and working on the till."
Debbie now enjoys spending time with the friends she has made through volunteering.
"It's like one big family and it's given us a new lease of life. We are always having a laugh with the hospice staff and other volunteers. We've made so many friends and it brings us so much enjoyment," said Debbie
"Being at the hospice can be heart-wrenching at times because Ewan was there for end of life care, but volunteering gives me a warm, happy, satisfying feeling."
"There have been so many memorable moments during our time volunteering but planting the trees in the memorial garden was such a lovely thing for me to be able to do, knowing that those plants will bring comfort to families like they did for us," shares Doug.
"Claire House made a massive difference to our family. There is a smile on everybody's face and just hearing those little kiddies laughing, makes me happy."
"If you've got some time to spare and are thinking about volunteering, I would say get involved. If you're even thinking about volunteering, you're already half way there," Said Doug.
"It's sometimes hard to put yourself out there, but once you take that step it will bring you so much enjoyment, like it has for us," says Debbie.
* To find out more about more about the volunteering opportunities Claire House offer, click here.