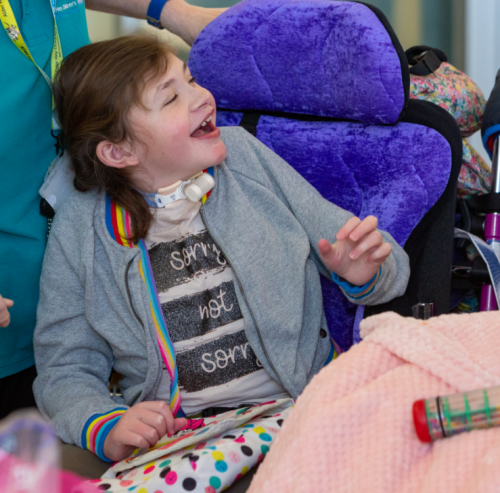 Ahead of Easter this weekend, lots of children will be looking forward to hunting for Easter eggs or enjoying chocolatey treats with their family.
But for some little ones, chocolate just isn't an option.
Many of the terminally ill children who come to Claire House can't eat Easter eggs, as they are unable to swallow or digest any food at all.
Therefore, the hospice celebrates Easter in different ways, including making Easter crafts during a child's stay.
It helps take the pressure of families like Alison and Mark Ruston, whose daughter Jessica is fed through an intravenous line.
"Jess can't eat anything. It's really dangerous if she puts any food in her mouth because she can aspirate it into her lungs," explains Alison, from Southport.
She adds: "She's got an unsafe swallow. She's not been fed since she was a baby. Instead, she's fed through an IV line, so it's two big bags 16 hours a day."
Jessica, 13, has a unique, chromosome abnormality and was diagnosed with Beckwith-Wiedemann syndrome.
Despite not being able to eat or talk, Jessica is mischievous and full of fun. So, making sure she doesn't miss out on occasions like Easter is so important.
Meal times are also challenging. Fortunately, Claire House offers Jessica's parents time to recharge their batteries and take their other children Olivia, 14, and Joe, 10, out for dinner.
Alison says: "Jess doesn't like to go out to restaurants. She pulls the table cloths off. She doesn't eat so that's fair enough.
"So, we have a rule that when we've booked Jess into the hospice for respite care we go out for tea. That's the start of our respite – just the four of us.
"It's not as a family because Jess isn't with us, but this is how our family has to do things. It's wonderful to know Jess is somewhere safe, being cared for properly and having fun."
Jessica certainly won't be alone this Easter.
Lillian Cracknell, two, is one of the few children at Claire House who could normally enjoy the tradition of eating chocolate at Easter. However, Lillian's family have introduced a ketogenic diet which is used to treat difficult-to-control epilepsy in children.
Mum Louise, from Chester, says: "It's a high-fat, adequate-protein, low-carbohydrate diet with no sugar, so unfortunately chocolate is not an option."
Lillian was diagnosed with infantile spasms at four-months-old and now has early onset epilepsy encephalopathy – one of the most severe early onset epilepsies.
While Easter won't be about stocking up on sweet treats, Louise says the team at Claire House make sure the children don't miss out.
She adds: "Easter will be more about sensory things, like playing with those little furry chicks you can get. Anything that is not about eating.
"The Claire House team are absolutely fantastic and always have ideas about how you can do things a little bit differently."
You can help Claire House to continue providing alternative ways for the children we support to enjoy Easter.