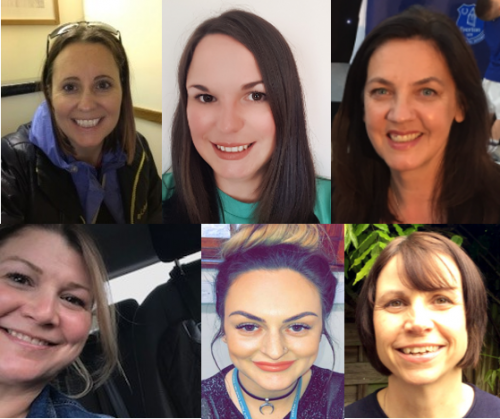 What is counselling?
Counselling is the process of helping you to find a way to feel happier or better in your life.  It is usually just you and the counsellor (more on the counsellors later) in a room together so it is private and nobody else is listening in to what you are sharing.
You might find that you are having problems at home, school, with parents, friendships or just not feeling like you usually do.  A counsellor is somebody that is separate from home, school, family and friends so you can talk about anything or anyone that you want.
These meetings help you to work out what you are thinking, how you are feeling and to find ways to think differently or to make changes yourself to cope with what is happening in your life.
Who are the counsellors at Claire House?
The counsellors at Claire House have all worked with lots and lots of children and young people.  In fact, we work with children as young as 4 years old, all the way up to teens and young adults.  It is likely that we have heard a lot of similar things to how you are feeling, so whatever you think, feel or say will not upset any of the counsellors.  So you can talk very plainly and clearly to any of them.
The counsellors have worked with siblings who have a very unwell brother or sister and siblings whose brother or sister has sadly died.  They have got really good experience of helping you to find ways to express your feelings so you can get back to being you again.
Introducing the Counsellors
"I'm Tash.  I love my job at Claire House.  I like being able to spend time with children and young people to see if I can help them with things that feel hard or difficult in life.  I arrange lots of trips and mini holidays for the Claire House siblings to come and meet other kids who have similar things happening at home.  When I am at home, I like being outdoors.  I have a cat who sleeps a lot and two chickens who are very messy, but make good eggs!"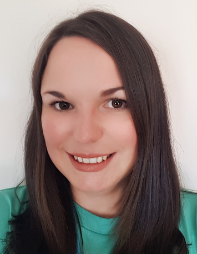 "Hi my name is Catherine. I really enjoy working at Claire House, especially when I can have lots of fun meeting children and young people on sibling activity days! My job here also lets me work with children who find parts of their life really tough. It can be helpful for people to talk or draw about how they feel so that we can try and make life a little bit easier. When I am away from work I like to do craft activities and bake. My favourite thing to bake is cookies – they don't last long in my house!"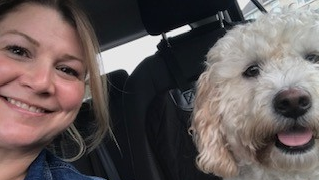 "I'm Rachael, I absolutely LOVE my job and I feel so lucky to work here and spend time with children and young people who might need space to talk about difficult things in their life.  I have a dog called Maggie who is absolutely bonkers; I think she is part kangaroo because she bounces so much!  I enjoy cooking and baking… I won the "Claire House Bake Off" Competition last year, something I am very proud of!"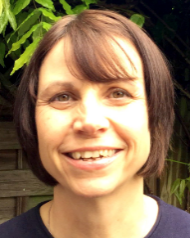 "I'm Frankie.  I work on a Monday and a Tuesday at Claire House.  I love getting to know the children and young people I meet here.  We talk about difficult and sometimes sad times, and this seems to help things be less tricky.  We also talk about things that you enjoy doing, and this can help you feel happier and calmer.    When I'm not at work I take my dog for walks – she loves to chase squirrels and fetch sticks, and always, always comes back muddy!!"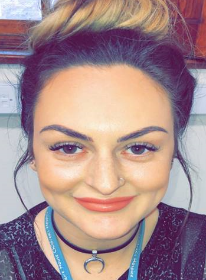 "I'm Sarah.  I am so lucky to have a job where I get to be inspired by so many amazing people daily. I am really passionate about getting to know people of all ages and supporting them in any way I can. I am a chatterbox who loves to sing and dance. I am also training to become a laughter yoga instructor as we have lots of reasons to cry in life and not enough moments that make us smile"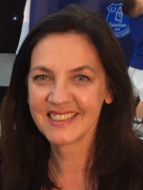 "I'm Collette, I'm really happy being a counsellor at Claire House and  in a primary school helping children and young people with their difficult feelings and emotions.  I also have a great sense of fun and once appeared on a CBBC show where I had to put on a space helmet with a tarantula in it…it was really scary.  I love animals and have three cats and I also work on a farm – I can even drive a tractor"
Which counsellor would I be seeing?
It depends on who becomes available first, it could be any one of the five counsellors in the team who work with children and young people.  It is important that you feel comfortable with the counsellor you first meet with.  If you don't, you can ask to see someone else.  This will not upset the first counsellor you saw because we all want you to feel able to talk and share your feelings more than anything, so swapping to someone else after your first session is fine.
How long would I have counselling for?
Each counselling session lasts from between 30 minutes to an hour – depending on you.  You would have a counselling agreement with your counsellor about how many times you would see them.  This usually starts at 6 meetings and then can continue on after that.
What happens in a counselling session?
We know that it can be really hard to talk about what you are feeling, sometimes you might not even know yourself or have what you feel are the right words to say out loud.  We have lots of ways to help you to express feelings.  Expressing a feeling might be you saying something out loud, drawing or writing about it, using musical instruments to show it, using puppets, sand or mini-figures to play it out or playing one of our games or activities.
If you think you would like counselling because you are really sad after losing a family member, like your brother or sister, then there are lots of memory making activities we can do together.  These can help you to remember happier times and keep those thoughts safe for now and the future.
For older young people, stress, pressure, anxiety and feelings of depression can be common factors in life.  We have lots of experience in helping young people to identify these and strategies to manage them and cope better.
How can I access a counsellor?
It is usually a good idea to talk to a parent or guardian and let them know that you are not feeling so good, you could tell them that you have been looking at this website.  They will be able to call our office number to put a referral in for you.
You could also talk to another adult that you trust, this might be a family doctor (GP), the school nurse or a teacher.  We can take a referral from anyone for you – but we'd need to check that your parents or guardian is aware.
If you feel that talking to a parent or trusted adult about this is not possible, you can email Tash directly and we will take it from there and find a way to put the right support in for you.  If you are in this position, please do get in touch directly => Natasha.Williamson@clairehouse.org.uk