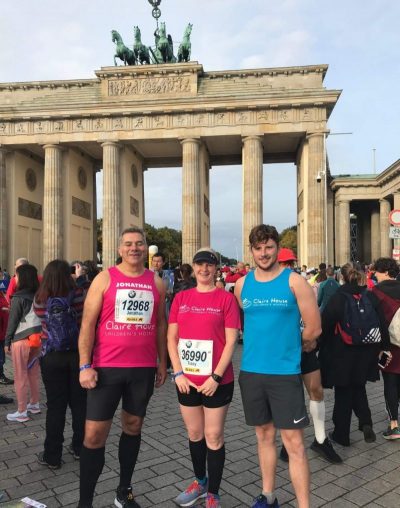 **PLEASE NOTE THAT DUE TO THE ONGOING SITUATION REGARDING COVID-19, THIS EVENT IS CURRENTLY ON HOLD. PLEASE SEE A STATEMENT FROM THE RACE ORGANISERS BELOW**
"We have learned from the press conference of the Berlin Senate on April 21, 2020, that all events with more than 5,000 persons will be prohibited until October 24, 2020. Unfortunately, this also applies to the BMW BERLIN-MARATHON, which cannot now take place on September 27, 2020, as planned.
We will now deal with the consequences, coordinate the further steps and inform you as soon as we can.
Let us remain strong together.
Your team
from the BMW BERLIN-MARATHON"
—–
Run for Claire House in the one of the World's great classic running events – the Berlin Marathon on Sunday 27 September 2019! Take in the sights of the beautiful German city as you run 26.2 miles.
How to enter? There are two ways to run for Claire House:
Secure a Claire House charity place – simply complete the form below and let us know that you would like a Claire House place and run for FREE if you pledge to raise £1200 in sponsorship.
Get your own place – complete the form below and let us know that you already have a place in the event and wish to fundraise for Claire House, raising as much as you can.
Either way, we will send you a Fundraising Pack, which will include your running vest, sponsorship forms and information about Claire House.
The Claire House Events Team will be here every step of the way to support you as you train and fundraise for the epic Berlin Marathon.
Just Giving
Set up Your JustGiving Page