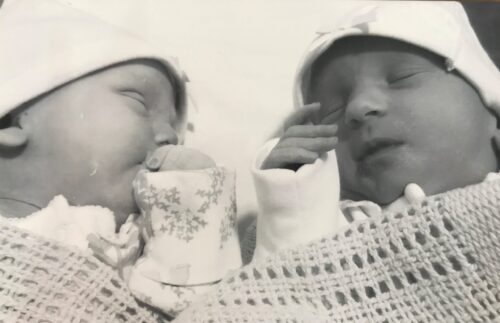 "We had Ana for such a short time, but the time and support we did have was invaluable thanks to Claire House."
Mum Emma, was thrilled to find out she was expecting twin girls, but later devastated to find out that baby Ana was unlikely to survive. Claire House Children's Hospice supported Emma and her family through the worst possible time.
My husband and I were expecting twin girls, Ana and Olivia.
At our 20-week appointment, we found out that Ana had a problem with her kidneys, and we were told that the outlook wasn't good.
They weren't entirely sure what the outcome would be when she was born, but they weren't hopeful.
We had a couple of scans at the hospital and then we were referred to Claire House Children's Hospice. That was when we were introduced to Kat, a Perinatal Palliative Care Nurse Consultant, from then on she was our support.
Kat came and explained how the hospice could support us and the journey began there. Every scan Kat would meet us at the hospital and just be there with us.
I carried both girls to full term and after they were born, we only had a short time with Ana.
Ana was such a beautiful little girl. She let out a big cry when she was born and took her last breath lying on my chest wrapped up with her twin sister Olivia.
When I gave birth Claire House were there the very next day. They even drove me and Ana in the car to Claire House after she died, so I wasn't away from her.
One of my biggest fears throughout my pregnancy was that once I gave birth she could just be taken away, so having that reassurance and support was so important.
Ana stayed in the Butterfly Suite at the hospice, which was her own little room, where we could go in and spend time with her, hold her, dress her and read books to her. Family could come and visit so they got to meet her and hold her in a safe, quiet place.
We got time to process what had happened. I couldn't imagine just having to go home and go back to doing normal tasks, whilst trying to organise a funeral for my daughter.
I'd never organised a funeral before so Claire House took care of the practicalities so we could spend time with Ana.
Ameila, our older daughter got to spend time with her sister, but she also got to go and have fun and play whilst we grieved.
Through all of the trauma of being given the worst news possible and losing Ana, Claire House was a safe place where we could spend time as a family and make special memories.
We had Ana for such a short time, but the time and support we did have was invaluable thanks to Claire House.