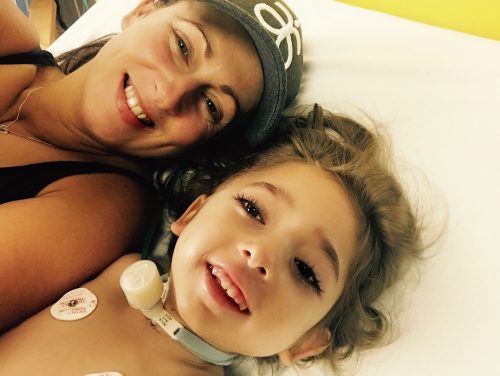 "People don't want to know that your child is going to die."
"People don't want to know that your child is going to die", Wendy, 42, shares what it is like to care for her seriously ill daughter and why she supports Claire House's appeal to reach every dying child.
Without the immense support from Claire House, I honestly believe I may never have come to terms with the heart-breaking reality that we will have to plan our daughter's funeral.
We were told our full-term baby Erin had severe brain damage five years ago and I felt irreparably broken.
But, while I still struggle that our beautiful girl is going to have a shorter life, I appreciate every day I have with her, rather than dwelling on the fact I'm a day closer to losing her.
Of course, it's traumatic to deal with the blow that your child has life-limiting disabilities and you can't plan anything for them.
In August 2013, Erin was starved of oxygen for the first 17 minutes of her life and it took 42 minutes to stabilise her.
We tried to take it in as doctors explained there was nothing more that could be done and said Claire House were preparing the Butterfly Suite – where a child can stay as an alternative to a funeral home.
I didn't know anything about the children's hospice, let alone thought I'd have to say goodbye to our baby girl there.
But, against all odds, Erin recovered enough to be allowed home from special care five weeks later.
Claire House was a constant support for us. The staff knew what we were feeling and had the right words to help us cope.
They offered us some normality at a very sad time and invited us along to physio sessions and a fortnightly mums and tots' group.
At first, I feared being around other disabled children would be too painful – it was too raw for us.
Yet, because Erin has cerebral palsy and suffers from painful muscle spasms, taking her to a regular group was impossible.
I knew I had to be strong for her, so my husband Nick and I took Erin along to the Claire House tots' group for some play and interaction.
Fortunately, when I did break down, one of the care team scooped me up and instantly put me at ease, I knew everyone felt the same.
They taught me it's important not to forget who you are because if you don't look after yourself you certainly can't look after a disabled child.
When you become a mum you lose your identity, even more so when you have a child with disabilities.
Not only did I lose my identity, I lost my career too because I couldn't continue to work as a civilian investigator for Merseyside Police.
After suffering with post-traumatic stress disorder (PTSD) as a result of what happened to Erin, and the loss of our unborn son at 16 weeks gestation in March 2017, I took early retirement due to ill health in November 2017.
Three months later, I set up my own business to help others cope with trauma and, after losing more than 4 stone, I retrained as a personal trainer.
Eating better and training every day helped me find the strength to cope with everything that comes with being a mum to a special needs child.
I needed a career I could fit around caring for Erin and our youngest daughter Harper, two, so I set up my company to educate the emergency services about taking control of their physical and mental health using good nutrition and a positive mindset.
I think I'm exactly where I'm supposed to be right now.
In the early days, I didn't leave the house and I felt hugely isolated. My mum Barbara would find me sobbing in Erin's bedroom in the early hours because I felt I couldn't protect her.
Thankfully, Claire House has given me another support network. I'm grateful to know the other mums and dads and children because we all lean on one another.
Erin's changed us for the better and I'm a better person because of her and the families I've met.
Our lives wouldn't be the same without Claire House – I wouldn't have those friends and their understanding.
I still have bad days. It rips me to pieces thinking about all the wonderful things we won't get to do together, like talking to her about boyfriends or watching her graduate.
But thanks to Claire House, there are people to get me through those toughest days and the sleepless nights.
This is why I'm supporting the charity's appeal to reach every dying child, as I know there are more families like mine who need Claire House's help.