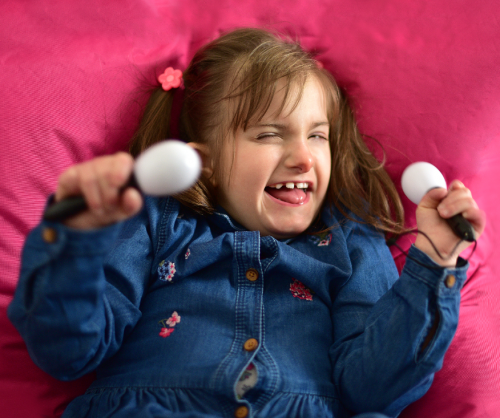 "We need to make Christmas special because we don't know how long we've got her for."
Wendy Ebbrell's daughter Eva is severely disabled, making Christmas even more important. Here Wendy talks about how the support of Claire House Children's Hospice helps the family make the most of every moment.
We weren't expecting Eva to be Eva. It was a normal pregnancy at the start, but soon after she was born the consultant came round and told us she was disabled.
At that point life changes, forever. There is no going back and you have to learn how to adapt but sometimes it's really hard.
After lots of testing, Eva is still undiagnosed, so she is referred to as a SWAN – that stands for Syndromes Without A Name. We were told her life expectancy wasn't long. But one year turned to two, two turned to three and now she's seven.
Her condition also means she has microcephaly which means her development is delayed. She needs 24-hour care and can't do anything for herself apart from ask for a cuddle.
She is fed via a tube but she doesn't eat nearly enough for a seven-year-old, not enough to grow, so she has extra fluids. Spicy food is her favourite – she loves a good curry. She eats hotter curries than her dad!
For us Christmas is fun and exciting but it's also heart-breaking because you're reminded how different things are.
Claire House took Eva to see Santa. In one picture she was sitting on Santa's knee – she was probably most interested in pulling his beard.
She loves opening presents at Christmas too, so we try and make all the paper sensory – it's got to have ribbons and bows on.  We need to make Christmas special as we don't know how long we've got her for.
We first came to Claire House in July 2017. At the time me and my husband were both still working; Dan's a police officer and I'm a nurse, and Eva was up in the night multiple times. We were both so exhausted and we weren't spending any quality time with our eldest daughter, Isla, who's 12.
During one of Eva's stays at the hospice we found out Dan had an aggressive stage 4 cancer. We were able to get our thoughts together and decide what we were going to do. I don't know what I would have done without them at this time.
Dan's treatment was nasty – it was chemo then radio therapy, then a stem cell transplant at the end of last year. I was trying to juggle all that and Claire House was there, at the drop of a hat.
At Claire House they always say they love having Eva. She's known as Eva the Diva. She's a monkey; even though she doesn't speak but she can give you a run for your money.
She likes art and she loves the music room but most of all she loves the hydrotherapy pool. Hydro calms her down, that and constant tickling of her ears; but you can't do that all day, can you?
She gets to experience things with Claire House she doesn't with us. The nurses also take her on trips out – to the aquarium and to the museum – she even went strawberry picking. I would never have thought in a million years to take her there as I get really bad anxiety with her – if people stare or if she's behaving difficult.
We don't stay at Claire House because we realised they know what they're doing. Whilst Eva is in the hospice, I get a full night's sleep and we're able to do normal things.
We really need the nurses at Claire House to help take the pressure off. Nobody will ever understand that feeling of having a disabled child.
You feel guilt even though it's nobody's fault, you want to blame other people but there is nobody to blame. It's stressful, it's emotional, its time-consuming. It wasn't the plan, everything went wrong and no one gives you guidance on how to deal with this.
So, when I'm at the end of my tether; Isla's being left out, me and Dan have run out of steam and I can feel the anxiety getting worse – it's time for Claire House. We pick ourselves up, put ourselves back together and then carry on.
Any gift you can give will make a massive difference to families like ours and help us make Christmas special.