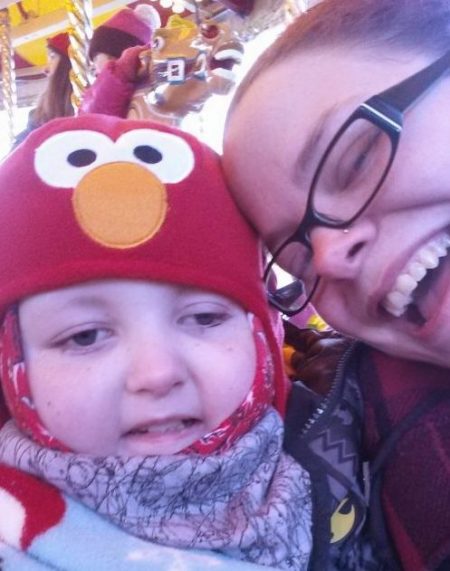 "For Ewan, he loved everything about Claire House and joined in with it all."
Katy Parry's much-loved son Ewan lost his battle with a brain tumour shortly after celebrating his last Christmas, but the Claire House team helped make every moment count.
"Seeing my inquisitive five-year-old chatting about where Santa came from or explaining which Furby he wanted for his birthday on Christmas Eve, a huge smile spread across my face.
"It was our first Christmas at Claire House, but with the twinkling lights, decorations and festive cheer, we could have been in any grotto, not a children's hospice.
"People think you go to a hospice to die, but at Claire House you live. The team go above and beyond at any time of year, but at Christmas it is magical.
"There is even more laughter with the children enjoying Christmas music and crafts, presents and, sometimes, even real reindeer.
"The next time we were surrounded by the Christmas and New Year festivities at the hospice, it would be our last together. We lost our loving, clever and Lego-obsessed little boy to a brain tumour in January 2015.
"Almost four years on, Christmas is still a desperately difficult time for our family. Yet despite losing Ewan, it doesn't make me sad to watch that video of him and his sister Niamh, now eight, meeting Santa. Instead, it makes me thankful we had the opportunity for those lovely experiences.
"During our final visit to Claire House in December 2014, we brought in the New Year, had a gorgeous meal and, because we were close to the end, the kind-hearted team even let us decorate his room.
"With plastic shelves full of his Christmas presents, teddies and Lego, Ewan could well have been back in his bedroom in Mold. But because we weren't at home, Claire House took care of absolutely everything.
"They allowed us to spend that last week with him, giving him our love and undivided attention. You can't ever get that time back.
"As well as sorting Ewan's medical care, they gave us all the love and companionship a family member would give but in a different setting.
"Claire House offers children and families so much, if it wasn't there where would we be? Families like mine would cease to exist.
"Fortunately for us, they got a horrific situation under control.
"Being unable to drive, I couldn't have taken Ewan to his twice-daily radiotherapy sessions at Clatterbridge if it wasn't for the hospice providing us with a friendly place to stay for more than a month.
"For Ewan, he loved everything about Claire House and joined in with it all – cooking, baking, arts and crafts, music and swimming.
"On one occasion, he gave gymnast Beth Tweddle a tour of the hospice in Wirral. Hand-in-hand, they strolled around the grounds, with Ewan encouraging her to spin him around and Beth happy to oblige when he requested she do cartwheels. Although, our loveable boy refused to wear her Olympic bronze medal for a photograph, saying she'd earned it – he was a true gentleman.
"Ewan loved people, so he bounced off the team too. He'd hold onto their faces and give them kisses, he even had a kiss chart in his room because everyone came to him for hugs.
"To give a child that belief, not only in Christmas and Santa, but in the love of everyone around them is simply magical."