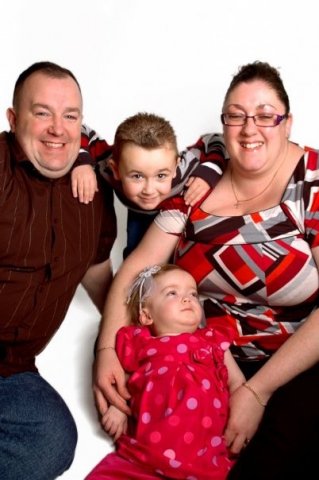 " Claire House made everything so much easier for us, with both the children."
Watch their Children in Need film
Losing a child is the hardest, most painful thing a parent can ever endure. But to lose two children? That's something most people can't even comprehend.
Karen and Paul Ledsham welcomed Abigail in October 2006, a much-wanted, much-loved sister for her big brother, four-year-old Harrison. "I remember my dad coming to the hospital and saying, "you've won the lottery now, you've got one of each"." Karen says.
But after a few months, her parents noticed Abigail wasn't developing in the same way her brother had. One afternoon, Abigail fell over but didn't reach out to stop herself hitting the ground. And so started the endless rounds of doctors and paediatricians.  "The term Sandoff's Disease was mentioned to us. It turns out a distant cousin of Abigail's had had the condition too and when we compared her symptoms to Abigail's they were a mirror image. It turns out, Paul and I were both carriers; the chances of winning the lottery are higher than that."
Eventually, Abigail was diagnosed with the genetic condition. "My dad wouldn't come to the appointment with us and my mum, he was convinced there was nothing to worry about" Karen explains. But the family were told Abigail wouldn't live beyond the age of four.
"The diagnosis was devastating" says Paul. "It was as if she'd died then."
The family were introduced to Claire House Children's Hospice so they could get the support they needed and make the most of the time they had as a family. "The fact that Claire House had family accommodation was what was most important to us" says Karen. "I never understood when people said they were having a 'kid-free' weekend. I always wanted my children with me and we did everything together as a four."
Abigail died in 2008, just five days short of her second birthday. For her older brother, the experience of having a seriously ill sister had a profound effect on him. Paul says; "Harrison saw everyone equally. Spending time at Claire House meant he was used to being around children who didn't look or act like other children and he just took everything in his stride. He stuck up for his friends and defended anyone who was more vulnerable."
Sporty Harrison was 11 when he started complaining of pains in his legs. Doctors diagnosed growing pains but when his dad went to pick him up from a cricket match to find him crying in pain, Karen and Paul knew something was wrong. Her voice breaking; "Realising there was something wrong with Harrison was almost worse than Abigail. We couldn't believe it was happening again."
The pain in Harrison's leg was a pathological fracture – the bone in his leg had fractured after it was already weakened by a disease. "I'm a nurse" explains Karen, "So as soon as I heard that, I knew something was terribly wrong. Harrison had cancer. There was a nodule in his chest too. Paul and I kept the news between us. We didn't tell Harrison, we didn't want to frighten him. But, when he did find out, he asked us if he was going to die. We told him no. We were determined we wouldn't lose him too."
Despite his failing health, Harrison's tenacious personality never waned. "He still loved going to school and hanging out with his friends, and he still wanted to spend time with us. He was never too cool to hang out with his mum and dad."
It was when Harrison was diagnosed that Claire House stepped in again. "Harrison knew how the hospice worked having spent time there with Abigail. It was a bit different this time. Louise from the hospice would come round and play video games with Harrison and just chat with him. Sometimes they'd talk about his feelings and his illness, other times, if Harrison didn't feel like talking about anything too serious, they'd talk about sport!".
The tumour in his leg meant eventually Harrison had to have it amputated. Karen remembers, "He took it all in his stride when they said they may have to take his leg. When Harrison woke up, he asked the surgeon if they'd had to take it. When the surgeon told him yes, Harrison just said "That's ok, as long as you tried". He was always so positive and polite and everyone loved caring for him."
But despite having his leg amputated and being accepted on to a clinical trial, Harrison's cancer had become too severe. He was encouraged by his family and the team at Claire House to make a list of all the things he'd like to do. "He loved making lists" his mum explains. "He used to make them about all sorts of things; his favourite wrestlers, his favourite TV shows, just endless lists of things he liked or thought about. So making a list of all the things he wanted to do was easy for him."
Harrison asked to travel in a fast car, so Claire House arranged for a Rolls Royce to be chauffer driven to pick him up. Laughing, his dad says, "He knew more about the car than the bloke driving it! He knew what all the buttons did!". He also asked for a limousine and to take all his friends for a posh meal; they went to a local carvery. "Harrison just loved the simple things in life. He wasn't complicated or a show off, he just liked simple things like watching the rugby or going to school."
Harrison died on 14th May 2015. He was 12 years old.
"We cope OK day to day "said Karen. "It seems like only yesterday Harrison and Abigail died and we keep expecting Harrison to walk in. We hear some music and it reminds us of them.
"We talk about the kids all the time. It brings us a lot of comfort to know they're together, along with their Grandma."
"We're also convinced they're still around us. After Abigail died, things started to happen. Taps would come on or the printer would start on its own. Harrison also found some white feathers after his sister died. When he was in hospital, and we were saying goodbye to him, we asked him to send down some white feathers when he was ready. Sure enough, the day after he died, Paul found six white feathers in the garden.
"Claire House just made everything so much easier for us, with both the children. The things they were able to organise meant we could concentrate on the really important stuff; just being there for them and spending time as a family."
It's your support that has meant Claire House has been a lifeline for the Ledsham family throughout their ordeals. Claire House continues to be there to support Karen and Paul, however and whenever they need.