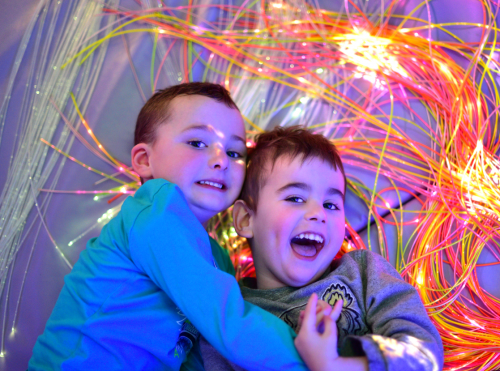 "Claire House has helped create memories we would never have had the chance to do."
The thought of taking your child to a children's hospice can be terrifying, but Liverpool mum Gemma Rimmer explains how being referred to Claire House changed everything for the better.
Watching helplessly as your two-day-old baby is rushed to hospital in an ambulance isn't something you ever want to imagine.
So, when it happened to us, just 24-hours after bringing our baby boy home, we felt an overwhelming sense of panic and fear.
Jacob was born at 37 weeks weighing almost seven pounds, he was tiny but perfect. However, just a couple days after I gave birth, our beautiful son was put into an induced coma.
My husband Kevin and I were devasted our precious little boy was so poorly. We felt helpless.
After two lumbar punctures, doctors diagnosed Non-ketotic Hyperglycinemia, a condition which causes brain damage as well as Cerebral Palsy, Epilepsy and developmental delay.
Devastatingly, we were told Jacob would have no quality of life and were given the option to switch off his life support machine.
But, after reaching out to other parents whose children had the same condition, we made the decision to keep going. Jacob wasn't ready to give up and neither were we. We wanted to give him every chance we could.
Of course, we knew it would be difficult caring for Jacob, as well as our three-year-old son Joel, but we muddled through the long sleepless nights, seizures and countless medications.
When Jacob was two-years-old our family liaison officer told us about Claire House Children's Hospice.
We were struggling as Jacob wasn't sleeping and I was at breaking point. She told us about the support the hospice could offer and made a referral.
The thought of taking our cheeky toddler to a hospice was really daunting. We didn't know what to expect. But Jayne and Angharad from the Claire House Referrals team visited us at home and explained everything.
We would receive respite care and could even stay as a family. They offered us a much-needed rest and sibling support for Joel.
We had our first stay almost a year ago and I remember feeling so apprehensive about it all.
But I needn't have worried, everyone was so welcoming. It was lovely to just be Jacob's mum without worrying about his medications and to spend time together as a family.
Joel loved it too, he didn't want to go home. We got to play in the light room which Jacob loved, and got involved in arts and crafts and all the games.
Since being introduced to Claire House, we've been able to create memories as a family which we would never have had the chance to do.
Now, we still have the long sleepless nights and terrifying seizures to deal with, but knowing Claire House is always there makes everything that little bit easier.