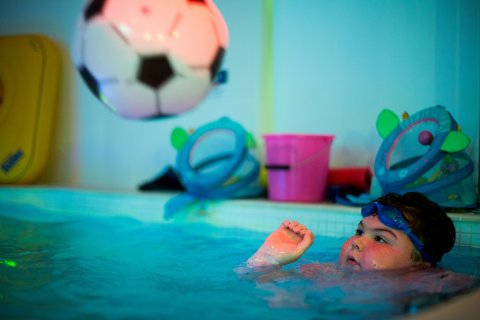 " With help from Claire House, there's no stopping him."
Joanne's son Liam, 12, has a condition that limits his mobility but with help from Claire House, there's no stopping him…
Splashing about in the swimming pool at Claire House Children's Hospice, Liam was in his element.
'Watch me dive Mum,' he yelled, gliding under the surface of the pool to pick up a brick from the bottom.
It was 2012 and it was Liam and his mum Joanne's first visit to the hospice in Bebington. Liam was having physiotherapy to strengthen his muscles, which were weak because of a muscle-wasting condition called Duchenne Muscular Dystrophy.
Over the past five years, thanks to the hospice, Liam has made some fantastic friends, toured Liverpool Football Club and even been driven around London in a convoy of Bentleys! Claire House has helped Joanne too, looking after Liam overnight so she can recharge her batteries.
Liam is a confident, happy boy who knows he can achieve anything with the right support, and Claire House has played a big part in that.