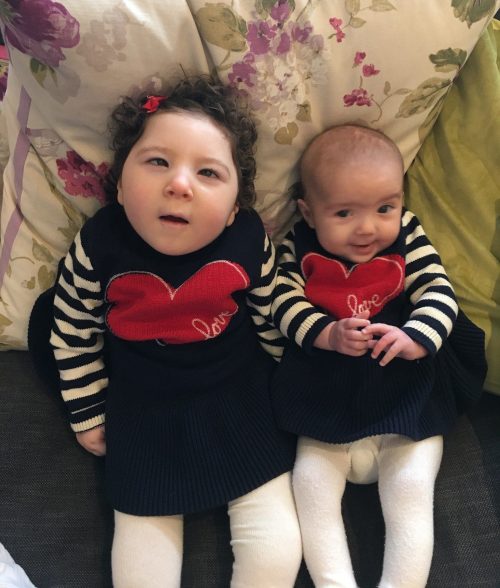 "Without Claire House, life would be more difficult and less fulfilling."
Coping with the demands of a disabled child and a new baby is incredibly challenging, but the team at Claire House are there every step of the way. Mum-of-two Louise explains…
Watching my girls enjoy a parents and tots group at Claire House, I couldn't help but smile at the special sibling bond they share.
It's those wonderful moments I treasure. Of course, being a mum to a toddler and a new baby is not without its challenges.
But while many mums have sleepless nights thinking about how a second child will change the family dynamics, I had different concerns when I was expecting again.
As the carer of our disabled daughter Lillian, it was daunting to think how I would cope with another little person's needs to juggle.
So, while Evie was very much wanted, I worried about how our firstborn would be affected because she too was entirely dependent on me.
Then came the other fear, would this baby have the same disability as her sister?
After three previous miscarriages, Lillian was our longed-for baby. But when she was about 12-weeks-old I noticed things weren't right. She wasn't moving her hands as I expected her to and she was having spasms which we initially thought were wind.
Heartbreakingly, at four-months-old our lives were turned upside down when our seemingly healthy baby was diagnosed with infantile spasms, also known as West syndrome.
The baby classes we attended soon became unsuitable and I felt uncomfortable surrounded by mums with kids who were reaching their milestones such as sitting up and crawling.
Fortunately, the fortnightly tots group at Claire House introduced me to a social network of mums who, in a similar situation, suggested other groups and services we could access.
The Claire House team offered love, hope and a listening ear. Without them life would be more difficult and less fulfilling.
They provided counselling, which was invaluable at the start when my husband Andrew and I tried to come to terms with having a disabled child and later when I worried about how I would manage with a new baby alongside Lillian's 24/7 needs.
Claire House took the pressure off by offering practical advice and providing respite care for Lillian, so we didn't have to worry when I was in hospital having Evie.
Second time around, I've loved doing all the 'normal' things a new mum gets to do, but it's full on. Having two children is stressful enough, but the fact both girls are dependent on me makes it even more difficult. That's why it's amazing to know Claire House will help in any way they can.
Lillian's condition has progressed to early onset epilepsy encephalopathy. Yet despite not being able to walk or move her arms, she can communicate and interacts with Evie and her older siblings Maddie, 16, and Eddie, 14.
It is sad Lillian and Evie won't have the same relationship I have with my two sisters, but they have their own special bond and are lovely and calm together.
Lillian is very placid and takes everything in her stride. We think having a sister close to her in age will help her develop too.
Three months on, their smiles make it all worthwhile. I've got little Evie who beams when she wakes up and Lillian smiles because we play with her favourite toys or make funny sounds.
Thanks to Claire House, there's even more laughter.