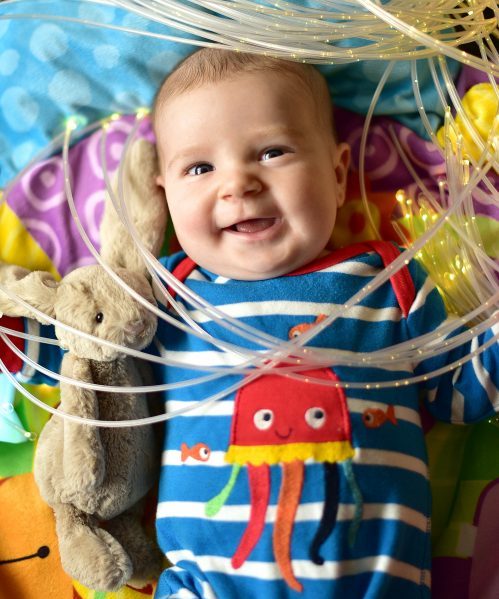 "I never got to see his first birthday"
"I never got to see his first birthday."
Parent Trustee, Helen, shares her son Lucas's heart-breaking story and why she is supporting Claire House and the charity's campaign to reach every dying child.
"Lucas didn't look disabled and people did not believe me when I said he was going to die. It was a lot harder for people to grasp that he wasn't well because he looked like a happy, healthy baby."
Helen and her husband Paul started coming to Claire House with their son Lucas after he was diagnosed with a rare genetic condition, Spinal Muscular Atrophy (SMA) Type 1 in 2016. Since Lucas died, the charity has continued to support them.
"It took us a long time to get pregnant and when we finally did, he was our little miracle.
"The pregnancy was absolutely fine and when he was born he was just beautiful. However, a few weeks later, I noticed he was not moving properly. Being a GP myself, I noticed that he was not developing properly and was actually regressing a little bit."
At four weeks old, Lucas was diagnosed with SMA. The condition causes degeneration of the muscles so babies lose movement of their limbs and develop feeding, and ultimately, breathing problems.
"We were told quite quickly that Lucas would not reach 18 months. It was a terrible shock for us, it was very difficult to come to terms with.
Coming to Claire House
"Claire House made an unbearable and heart-breaking scenario more bearable. They provided us with so much love, support and understanding. We are forever in their debt.
"Initially we were looking after Lucas at home and it got to the point where he was on medication every couple of hours, and trying to feed him and get all the medications in the right order was so tiring. I was exhausted because you become so regimented. It just wasn't sustainable as we were both up all night and absolutely shattered.
"It was only at this point we were finally convinced to come in and stay at Claire House. We thought when we were bringing him in, this is it, he is going to die. But the hospice is so much more than that. It is about creating memories and allowing you to spend that quality time with your child."
"Because of Claire House, we were able to make memories with Lucas and do things we probably wouldn't have been able to otherwise. We got to spend quality and fun time with him. He loved the hydrotherapy pool as there was no gravity bothering him and he could flex his legs a little bit. He was just in amazement at the lights on the ceiling and both of us could get in and enjoy it with him.
"I found it hard initially to hand over control, but the nursing staff were so amazing, I would trust them with anything. They just enabled us to be Mum and Dad.
"We wanted Lucas to come home and he did come home a couple of times. We were so thankful to have a Christmas with him, but knew it would be our only one.
Lucas died peacefully first thing in the morning on 20th January 2017.
"We were all devastated and were so thankful for having the Claire House team around us. We got all the time we needed with him, they made our charms with his finger and footprints – Paul got some cufflinks and I've got my necklace.
"For us, it was knowing that he was not sitting in a crematorium or funeral home, but knowing he was still having that one-to-one care.
"After Lucas died, the support did not stop. Both of us had counselling and just having people who understand, saw us day to day and met us before, was what we needed.
"It is the silly things which get you. Like never going to parents evening, nativity plays, sports day, his first football match, judging his first girlfriend, then god forbid, his wife."
"The thing that breaks my heart is not being able to say I am his mum. I was his mum and always will be, but I can't announce it and show how proud I am anymore."
"Without support we would have just been completely broken. And we would have had no one there to help rebuild the pieces. Everyone at Claire House made us feel like Lucas was special. It felt like his little life meant something and a lot of people love him. This has helped us to move forward."
"That is why I wanted to give something back. When the position of Parent Trustee came up, I thought I can do that. I think a lot of people forget that the hospice is a charity and see it as another hospital service provided by the NHS.
"I hope that Claire House can continue to support as many children, parents, siblings and grandparents for as long as possible. For this to happen, they need the generosity of amazing people to raise money."