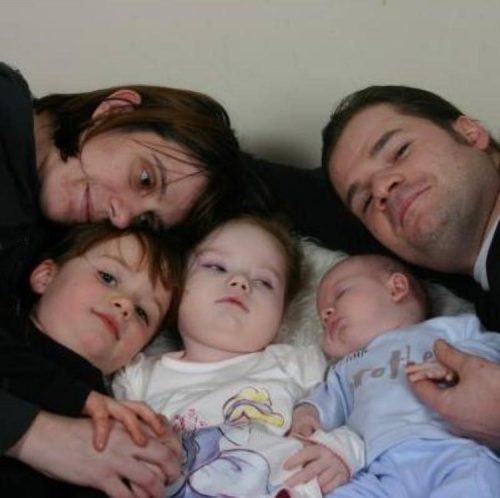 "I can't imagine going through what we did without Claire House."
Sparkling fairy lights, a visit from Santa, piles of presents and…a toddler fighting for her life. That's what Debbie and Brian Simpson faced on Christmas Day 2007. Daughter Molly, who was just three, lay in intensive care at the local hospital, her stomach bloated, and her tiny body a jumble of wires. 
"We were at rock bottom," she says. "But our friend and family rallied round, and the staff at Claire House often called us, offering help and support. They were real angels."
Molly had started coming to Claire House in April 2006 after she was diagnosed with Migrating Partial Epilepsy of Infancy, a rare condition affecting just 100 children worldwide. Molly had constant seizures, sometimes up to 200 every day, and was constantly in and out of hospital.
After a nine-month stint in hospital, when it was time for Molly to go home, Debbie and Brian were daunted by her complex needs; giving her medication, using a suction pump to prevent her choking and feeding her through a tube in her tummy.
We provided Debbie and her family with a respite stay with us at Claire House so they could spend time together while we looked after Molly's needs.
"It was special to all spend together, watching telly or floating about in the hydrotherapy pool," says Debbie. "If Molly had a fit or needed feeding, the staff took care of her. It meant when we got home, we were rested and better able to cope with the challenges ahead."
After that, Molly stayed at Claire House a few times, sometimes with her family and sometimes on her own, to give Debbie and Brian a much-needed break.
Then, in January 2008, when Molly took a turn for the worse and doctors said there was nothing more they could do for her she was transferred to Claire House.
Staff looked after her and kept her pain-free while Debbie and family spent precious time with her, saying their goodbyes and making mementos like capturing Molly's handprints.
"Claire House made the worst time of our life more bearable," says Debbie.
"Instead of worrying about mundane things like cooking or washing, we could concentrate on saying goodbye to our little girl.
"The staff were always there for a chat when things got too much and when Molly died it was peaceful. There were no flashing lights or emergency alarms, just our daughter drifting away in a room full of teddies, nursery rhymes, cuddles and 'I love yous."
After Molly died, we continued to support Debbie and family. Molly stayed in our Butterfly Suite, so her family could spend time with her until her funeral. Since then, over the last 11 years, we have provided counselling for the family and Rhys and Alicia have been to our Christmas parties.
"Christmas is always a difficult time for us but being involved in events at Claire House helps us feel closer to Molly because it's where we spent her last moments together as a family," says Debbie.
"Claire House staff were like angels helping us during Molly's last Christmas and through her final days and for that we will always be grateful."