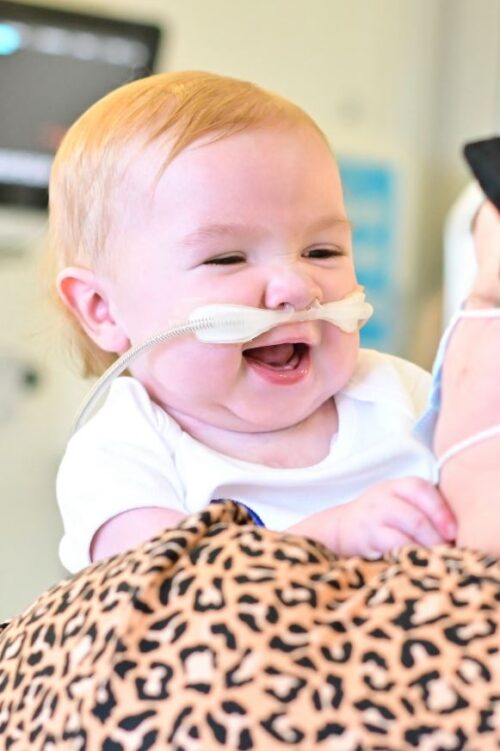 "We needed professionals to help us through a scary and uncertain time and that's what Claire House did."
When Amelia and Brian were told their son Oliver was going to be born with a heart condition, Claire House were there to support them every step of the way.
It was at their 20-week scan that mum Amelia and dad Brian received the news that is every parents' worst nightmare.
"We were told something was wrong with his heart and that we'd be called back for another scan in two days; they gave us a leaflet about heart defects and sent us home. Those two days were awful, it was scary," shares Brian.
It was then that Amelia and Brian were told their unborn son had a critical cardiac condition. They were introduced to Kat, a Perinatal Palliative Care Nurse Consultant at Claire House.
"We needed professionals to help us through a scary and uncertain time and that's what Claire House did," explains Amelia.
Kat was there to support at appointments and help Amelia and Brian understand complex medical meetings. She also helped them put together a birth plan.
"I found making the birth plan a really calming experience. We planned for every scenario. It was nice to put it together when we were in the right state of mind.
"With this shared with all medics involved in Oliver's care, it meant going into the birth I could focus on Oliver because everyone in the room knew what our wishes were, whatever the outcome."
Claire House also helped to create some positive memories during a really difficult time.
"We had a bump pregnancy photoshoot, which even our dog Princess got involved in. It was a lovely keepsake because if anything did happen, we had those memories," says Amelia.
"We decided to have an elective c-section and Kat was there for Oliver's birth.
"When we went in for the c-section, Brian wasn't allowed in straight away because of Covid restrictions and so I had to sit in a waiting room on my own.
"It was horrific; I was in tears waiting to be called. I heard Kat's voice and I remember thinking 'thank god you are here'.
"She calmed me down and walked me to the theatre where we met Brian. I honestly don't think I could have got there without Kat."
Oliver was born on 8th December 2020 and was taken straight to the Neonatal Intensive Care Unit.
It was confirmed he had a critical cardiac condition, but that they could offer surgery.
This meant Oliver needed to have a heart operation at four-weeks-old, an operation which was complex, but he recovered well and after three weeks, the family were able to go home.
"We were invited to the Claire House baby group, where we met Health Care Support Worker, Lucy. The group is so nice because we get to meet other parents going through similar situations. It's a support bubble," shares Amelia.
In October, Oliver had a second operation. Unfortunately, two weeks after the surgery, he was rushed into intensive care and put on life support.
They found a vessel in Oliver's heart had opened and he needed emergency surgery.
"It was very stressful, but Claire House are always there when we need them," says Brian.
"I'll always remember when Oliver was in hospital, he'd had a really bad night and I hadn't slept. Lucy came in and took me for a coffee, sometimes you just need someone to tell you it's okay to take a break and that's what she did, It's just something as little as a coffee and a chat that makes such a big difference," shares Amelia.
"Throughout our time in hospital, the team checked in on us and helped us make memories. They made Christmas baubles with Oliver's footprints on and helped us to celebrate Oliver's first birthday."
After almost three months in hospital, Oliver was able to come home on New Year's Eve.
He is now 15 months old and is sitting up and babbling away. He needs to be on oxygen and struggles with feeding so is fed through a tube into his tummy.
"Despite everything he's been through, Oliver has always been a happy baby. He very rarely cries and he's always smiling. He adores the Teletubbies, his doggy Princess and shaking his favourite maraca" explains mum Amelia.
"Claire House are like family – they make bringing up Oliver easier and calmer. They're a support network that we never knew we needed."
You can follow Oliver's journey on his Instagram page @oliver_chdbaby.