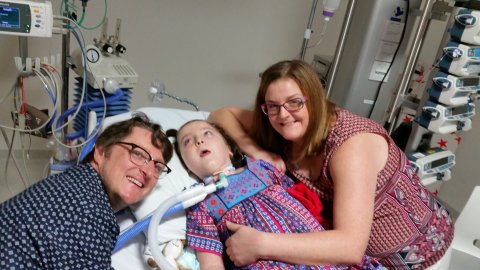 " With Claire House's help, we gave Olivia a wonderful life. "
We loved Olivia just the way she was. We don't miss everything it entailed looking after her; all the medical procedures she had to endure, making sure her airway was clear or her medications were given on time. We just miss her and her wonderful smile.
Born weighing just 800g, she was a little fighter. But after two huge cardiac arrests, the treatment resulted in brain damage. Olivia couldn't walk or talk and used a wheelchair. She was helped to breathe through a tube in her throat and needed 24-hour care. But whilst there were things she couldn't do like everyone else, she had a smile to rival them all.
She loved coming to Claire House Children's Hospice. I would call to check up on her and the team would tell me she was out strawberry picking or was about to go in the pool for a swim. This break from caring for Olivia ourselves meant my husband Jamie and I could enjoy time together. Claire House were there to support us when our second daughter Florence came along in 2014.
At the end of her life, the Claire House team came into hospital to help us build some precious last memories with Olivia. And when we brought her home for the final time after she passed away, they'd decorated her bedroom with fresh bedding and fairy lights, it was perfect.
Despite losing her, Jamie, Florence and I are comforted by the fact that, with Claire House's help, we gave Olivia a wonderful life. We know how much she loved spending time there and all the wonderful memories they helped us make for her have made saying goodbye that little bit easier to come to terms with. But we'll always miss her, especially that beautiful smile.
Jude and Jamie Bickley