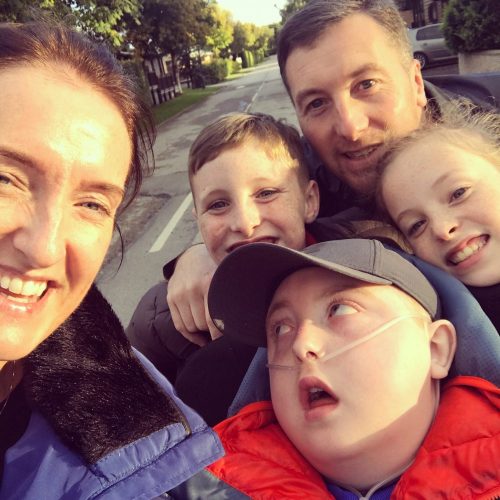 "There's no manual to tell you what to do when your child dies."
"There's no manual to tell you what to do when your child dies, but there is Claire House."
Mum Nicki was heartbroken when her son Shea developed a rare brain condition, but the support Claire House offered before and after he passed was priceless. She is now supporting the charity's appeal to reach every dying child, so that no family has to face the death of a child alone.
Watching our boisterous six-year-old jumping up and down on a hospital bed, we couldn't believe what we were hearing as the consultant explained he had developed a rare brain condition.
A CT scan revealed two abnormalities in our son Shea's brain and, after a MRI confirmed a diagnosis, doctors were sympathetic but firm; nothing could be done.
For my husband Steve and I, the news was like being hit by a truck. Almost overnight we had seen our lively little boy struggle to hang up his coat, write his name and put lids on his colouring pens.
Even holding a golf club at the golf range he used to go to with Steve quickly became too difficult for him. Bit by bit we were watching our cheeky, fun-loving child disappear, and it was absolutely heartbreaking.
We didn't know how long he had left and, within months, Shea became ill very quickly. In a matter of days, he was unable to see, speak, feed himself or move. Our world fell apart.
We were introduced to Claire House Children's Hospice in January 2011 – just four months after Shea was diagnosed with Adrenoleukodystrophy (ALD).
At first, we couldn't get our heads around the fact we would be taking him to a hospice and we were petrified. If you say the word 'hospice', people assume it is end of life. But it couldn't have been more different from the dark, solemn place we were expecting.
Rather than lying in bed, the children were up and about, laughing and having fun; and it wasn't long before Shea was in the middle of it all. The team were amazing and during the next seven years helped him to take part in crafts, music therapy, swimming and even to score goals through computer technology.
Their support meant that I could just be Shea's mum rather than his carer, and cuddle or play with him while someone else organised his food and medication or worked on his chest physio.
It made a horrific time a bit easier for us all, and looking back, I can't imagine how awful the situation would have been without Claire House.
There would have been no respite, nowhere that our twins Malachy and Maebh could have played that would have been near their brother, and nowhere we could have gone as a family to spend time together while someone supported Shea with his medical needs.
From Shea's diagnosis at six, Claire House has been there for us every step of the way. They were a lifeline when Shea was here, but I'll never be able to thank them enough for their support after he passed, age 13, at home in Liverpool in October 2017.
It's not something you want to think about when your child's condition is life-limiting but knowing the support will be there after they have gone is massive.
The team looked after Shea, keeping him cool at home, so we got to spend 10 more days with him until his funeral.
The tangible memories they helped us to create during that time will be treasured forever; his fingerprints on canvases, special necklaces with fingerprint pendants – all priceless keepsakes of our precious son.
Claire House also helped with things like the order of service. It's a world you don't know exists until you are thrown into it. Your family and friends can't comprehend what it's like to arrange your son's funeral even though they try and do their upmost to help, but everyone at Claire House understands – it's like a family.
They've continued to care for us, offering counselling and inviting the twins on sibling events, and that's so special.
We grieved twice for Shea – first for the fun-loving six-year-old taken from us by his condition and then for the beautiful boy we mourned when he passed.
And while there's no manual to tell you what you should and shouldn't do when your child dies, knowing that Claire House was and still is there to help us through it means that, no matter how hard the process is, we know we're not alone.