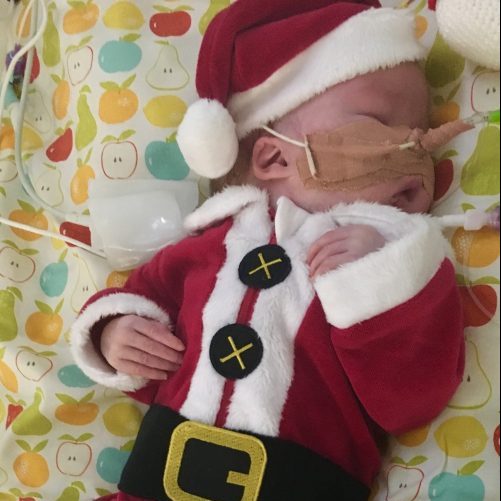 "Our first Christmas without Thomas"
Last year was Emma and Dan Garner's first Christmas without their son, Thomas. Here they tell their heart-breaking story and explain how you can help families going through the worst of times.
Thomas died in April 2018, and this is his story. He was born in October 2017 with an exceptionally rare congenital heart defect that was detected on scans during pregnancy. He spent the whole of his short life in hospital, and when parents Emma and Dan learnt that living on a hospital ward wasn't easy, Claire House stepped in.
Mum Emma said; "While Thomas was critically ill in intensive care, support from the team at Claire House meant that we were able to bond with him and make much-cherished lasting memories. But their involvement didn't end when he died."
Emma knew all about the support that the Hospice provides for children once they have passed away, and in the days surrounding Thomas's death she remembered, and gave them a call. Within hours, their request was accepted, and they were on their way to the Hospice through the Mersey Tunnel. Once they arrived, they were greeted by Shelagh, from Claire House's expert bereavement team.
"In the days after Thomas's death both Dan and I had no clue what was going on, what to expect or even what to think. We were completely lost. But Shelagh took complete control. She took us into the suite that we would be staying in and she greeted Thomas just as if he was still alive.
"She talked to him, cared for him and took him to his bedroom that had been set up just like the nursery that he should have had at home. She made us both a brew and sat with us. And the rest of the day was a bit of a blur. But that evening, she made it so we could bath Thomas for the first ever time. We washed him, washed his hair and dressed him in a baby grow that I'd wanted him to wear ever since he received it at Christmas. It was beautiful. But it was bittersweet."
Shelagh and the team were there to support Emma and Dan with everything – from registering Thomas's death to planning the funeral. Things no parent should ever have to think about for their child. Luckily, Thomas and his family were able to stay at Claire House until his funeral, but for many families this just isn't the case.
Shelagh said: "I remember Thomas and his family well – they went through so much in Thomas's short life, but it means so much to me and the team that we were able to be there for them. And we will continue to be there – especially as this will be Emma, Dan and Henry's first Christmas without Thomas."
Almost six months after Thomas's death, Claire House is still a large part of Emma and Dan's lives: "If we can raise awareness of the incredible work and facilities that they offer, this will mean more people are aware of what actually goes on there. So I ask you to please donate this Christmas. Let people know that this amazing place exists and what it does. We will never be able to thank them enough for all they have done, and continue to do for our family."