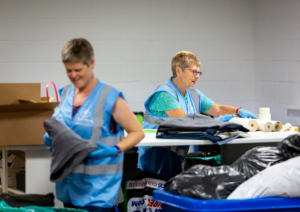 Are you organised and like attention to detail? Would you like to be part of an enthusiastic team and learn new skills? Then you could become a Volunteer Dispatch Operative at our brand new Claire House Donation Centre.
This is a really exciting opportunity for those interested in developing experience in retail, online sales and marketing. The role is one which provides a huge area of growth for volunteers. Not only will you gain new skills, but by donating just a few hours of your time, you'll also be helping us to raise vital funds to support more local children and families than ever before.
One of the most important roles within our eBay operation is DISPATCH. Each day we have items that need securely packaging and sending out to the customer- this may involve:
finding the item.
wrapping it securely before boxing it up and creating a postage label, (for this you'll need some I.T skills).
You will also deal with customers that are collecting items they have bought online through our local pick up option.
As part of our eBay team you will be offered the chance to learn how to list items for sale on eBay and how to value items before they go up for sale.
Did you know?: The Claire House retail operation generates over £2m sales a year. One of the biggest potential growth areas is our new online sales operation which currently trades almost exclusively on eBay- Why not join the team at this exciting time for Claire House.