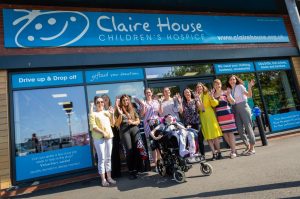 We simply wouldn't exist without our shop volunteers who help to raise vital funds and awareness to support Claire House. By donating just a few hours of your time, you can help us to reach more children and families than ever before.
As the main point of contact for customers and supporters, you'll not only help to take and process payments, but you'll also be the face of Claire House in your local community. Tasks will also include accepting donations, chatting to customers and helping to keep an eye on the shop floor.
Our till operators are essential to the success of our shops.
This is the perfect role for if you enjoy meeting new people, would like to gain new skills or build your confidence, it's also great if your looking to add some new skills to your CV. From  serving customers on the till to sorting through donations or creating window displays, there's plenty of fun things to do.
We're always looking for more volunteers to join our wonderful team! So, if you're a friendly, trustworthy and reliable person looking for a flexible role at the heart of your local community, it might be perfect for you.
We're dedicated to providing all our volunteers with a meaningful experience and development opportunities. Therefore, we also encourage our retail volunteers to develop an understanding of all aspects of the shop's work so that they can support the whole team as required.
This is a really flexible role – so whatever time you have to spare, we'd be delighted to welcome you on board!