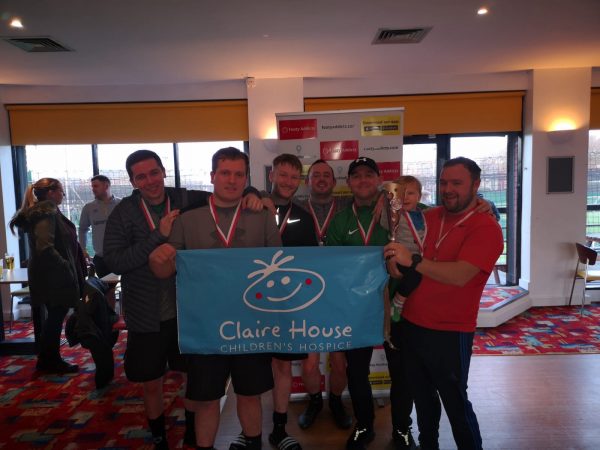 Businesses from around the city came together to take part in a charity football tournament, raising over £700 for Claire House Children's Hospice.
Claire House and Footy Addicts, have brought together over 10 local businesses around the city for a 5-a-side tournament at Powerleague Liverpool, on 18th January, in aid of the hospice.
The social platform, Footy Addicts connects football enthusiasts all around Liverpool and Great Britain. People use Footy Addicts to play football, organise games, socialise, keep fit and have fun.
Danny Taeidy, Footy Addicts Co-Founder, wanted to support Claire House after the app launched in Liverpool at the end of 2019.
"They are such an important charity in this area, that's why we were so keen to support them," says Danny.
Claire House Children's Hospice helps seriously and terminally ill children live life to the full by creating wonderful experiences and bringing back a sense of normality to family life. By providing specialist nursing care and emotional support the charity help families smile again when life couldn't get any tougher.
"Footy Addicts mission is to help people live healthier and happier lives through football. That's why it's so relevant for us to support such an amazing charity that sets out to enrich the lives of the most vulnerable. By doing this event, we hope to raise the awareness of the charity and encourage more people to actively support in any way they can," says Danny.
Harry Boshell, Partnerships Manager at Claire House, said: "When Danny got in touch to tell me he wanted to support Claire House, it was a no brainer. No matter how old you get, it's always great to have a game of 5-a-side.
"The fact we can get so many businesses together, having a game of footy and a drink afterwards while they're enjoying themselves is what it's all about. The money raised for the hospice on the day will also be really helpful for us."
Visit www.footyaddicts.com to find a football game near you.