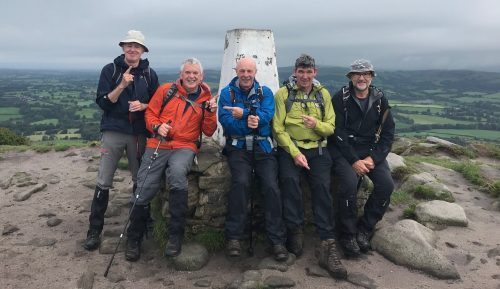 Five Liverpool lads are gearing up to trek Hadrian's Wall and back for local children's hospice, Claire House.
John Connell, Jim Kelly, Brian Temple, John McDonogh, and Gary Dunn, who are all over 60 and from North Liverpool, will start the trek in Bowness-on-Solway in Cumbria on 21st June. They will be walking the distance of the wall to Newcastle before turning back and returning, covering 170 miles in 11 days.
They are hoping to raise £5,000 to support Claire House.
"Last year we walked Coast to Coast and raised £2,500 for YPAS Liverpool, so this year we decided to do something a bit different. Not many people walk Hadrian's Wall by starting and finishing in Carlisle.
"We're starting on 21st June, which is hopefully the day when all Covid restrictions will be eased. We really hope to raise £5,000 for Claire House as it's a brilliant charity supporting babies and children in our local community. As a group, we hope to support charity and do a trek every year till we drop," said Jim.
Claire House Children's Hospice supports children and their families across Liverpool, Wirral and Cheshire.
Event Fundraiser, Mark Pearson, said: "Covid-19 didn't stop the vital work of Claire House but it did make it much more difficult. We continued to provide end of life care and emergency care to babies and children in the local community and be there for families going through the toughest of times.
"It was also important that we were there for families who were shielding and desperately needed our support. Claire House is a lifeline and we're proud that we continued throughout the pandemic. Now that restrictions are easing, it's incredible to have the support of people doing amazing things and raising money to keep our doors open now and in the future. We really appreciate what Jim and the group are doing."
To support the lad's challenge, you can sponsor them here: www.justgiving.com/fundraising/Fortress-Electrics