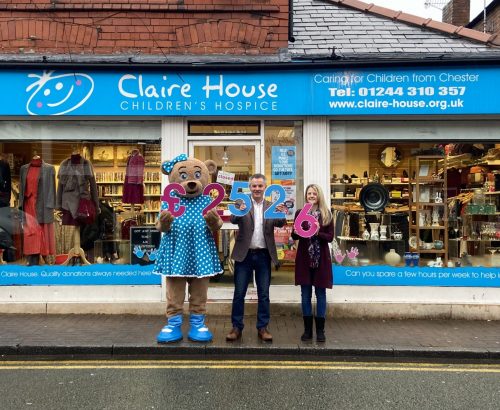 Chester based loyalty and reward company Loyalty Pro donated a further £500 to local children's hospice Claire House, taking their total donations to over £2,500.
Loyalty Pro operate the innovative community loyalty scheme in Hoole, where loyalty points earned in local shops can be donated to a choice of local charities via the community web pages.
Claire House Children's Hospice helps seriously and terminally ill children live life to the full by creating wonderful experiences and bringing back a sense of normality to family life.  By providing specialist nursing care and emotional support the charity help families smile again when life couldn't get any tougher.
Rob Meakin, M.D. of Loyalty Pro, commented "The Hoole scheme was set up as a pilot, so we honour the donated points rather than the local traders. It's proved popular with local people with almost 4000 loyalty cards in circulation.
In the next few months we plan to expand the scheme to include new venues in CH2 and beyond. With an updated app for those with smartphones to use as an alternative to the card, we hope to encourage more people to donate their excess points.
The money donated will help Claire House to reach out and support more families from Chester.
Emma Newell, Corporate Fundraising Coordinator, said: "We would like to say a big thank you to Loyalty Pro for setting up the 'Love Hoole' scheme and to all the wonderful supporters that are making this scheme such a success in their local community. It's a fantastic way to help raise funds for your local children's hospice, we are very grateful for this ongoing support for the hospice".