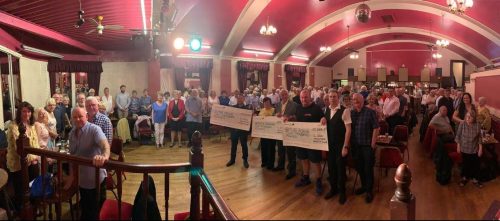 Birkenhead social club Houlihan's Variety Club continue to support Claire House and recently presented us with a cheque for £2,000, taking their fundraising total to an incredible £108,000.
The club's members have supported Claire House for almost 30 years through various events held at the club on Upton Road in Claughton.
Houlihan's Variety Club was established in 1988 by Kevin and Audrey Houlihan and is ran today by their son Damian.
Fundraising has been a part of Houlihan's from the very beginning and the club started their support of Claire House long before there was a physical hospice and the charity was just an idea inspired by local girl Claire Cain.
Damian said: "Claire House is very important to Houlihan's. Most people who come to the club have children and grandchildren and can only imagine what it would be like to have a terminally ill child.
"At Houlihan's, were proud to make a difference to our local community and supporting our local children's hospice is very dear to the club."
Mark Pearson, Fundraiser at Claire House said: "At Claire House, the number of children and families that we care for has increased by 84% in the last six years. Right now, we are looking after more babies and children than ever before, so the continued support of Houlihan's Variety Club is extremely important.
"Without the support of the local community, Claire House simply wouldn't exist. Their incredible fundraising allows our nurses to be there for local children with incredibly complex needs, when and where we are needed, and also enables us to be there at the end of a child's life."
Thank you to everyone at Houlihan's Variety Club for their ongoing, remarkable support!