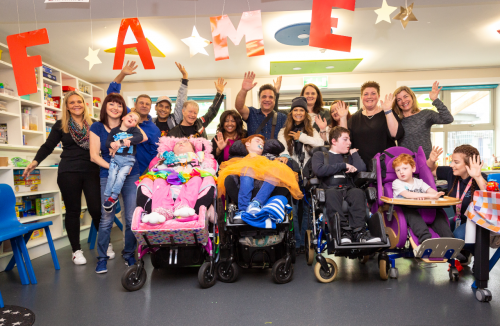 The original cast of the hit TV series Fame visited Claire House Children's Hospice last week. The cast were in Liverpool for two Fame U.K. Reunion Concerts over the Bank Holiday weekend, which were in aid of the charity. It was the first time in 35 years that the cast reunited on a U.K. stage. 
As part of the visit, the Fame cast received a tour around the hospice, which explained the specialist nursing care and emotional support for seriously and terminally ill children and their families.  The cast is happy to see that all the proceeds of the Fame U.K. Reunion Concerts will benefit this local charity and the children and family it supports.
During the visit, the cast met with some of the children and families that Claire House supports, as well as staff who are big fans of the 80s TV series. Families and staff were also treated to an acoustic version of the Kids from Fame classic 'Star Maker'.
Carlo Imperato (Danny on the Fame TV series): "Wow, how do you even put this into words…. a magical place. It brings two feelings into play, of course sadness, but also a feeling of an epiphany. The staff are providing relief to children and families who have incredibly difficult lives, they are helping to make those lives easier".
Speaking about being the chosen charity and the cast visit, Cora Shafto, Community Fundraiser at Claire House, said: "Claire House were so honoured to be chosen as the charity for the Fame U.K. Reunion. The visit to the hospice was wonderful, with not only families but staff also very excited to meet the cast. It meant so much to us that we could share what Claire House does and how the money raised will be able to help us continue providing care to the over 300 families we support.
The Fame U.K. Reunion concerts featured no less than eight original cast members of the Fame TV series: Valerie Landsburg (Doris), Lee Curreri (Bruno), Carlo Imperato (Danny), P.R. Paul (Montgomery), Cynthia Gibb (Holly), Nia Peeples (Nicole), Jesse Borrego (Jesse) and Loretta Chandler (Dusty). The cast were brought together by lifelong fan Sue Hinds who, with a team of volunteers and the Liverpool Media Academy, produced the show in aid of the Claire House Children's Hospice.
The Kids from Fame are one of the biggest pop acts from the 1980's, emerging from the immensely popular television series Fame. The show ran for six seasons. Five television soundtrack albums were released. Due to huge demand, the cast did two concert tours as 'The Kids from Fame' in the UK, Europe and Israel, including the Royal Albert Hall in 1982/1983.