About this event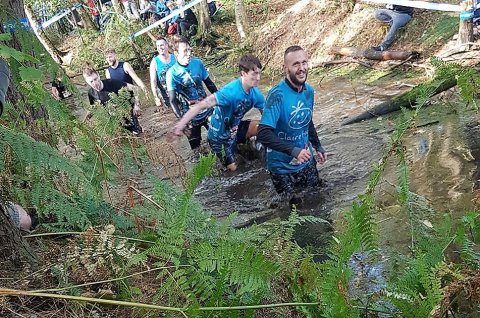 Are you ready to take on the UK's toughest half marathon? Battle with Mother Nature throughout this 13 mile trail run in Delamere Forest. Tackle the notorious Bog of Doom, meet the heart-thumping Devil's Disco and wade through Lucifer's Lido. A running experience like no other! Read more about this event here: www.hellrunner.co.uk
The main HellRunner event is a full-blown half marathon trail run with numerous off-piste sections and notorious natural challenges offered up by the amazing terrain of Delamere Forest.
Claire House have 25 VIP places in HellRunner, so you can take part for FREE! This includes your ticket for HellRunner in wave 1, free parking, food after the event and a special HellRunner technical t-shirt. All we ask in return is that you pledge to raise a minimum of £175 for Claire House. Get in touch to secure your place on the Claire House Team!
Alternatively, you can buy your own place in the event and just raise as much as you can! We can still send you a free fundraising pack and Claire House technical t-shirt.
Not quite ready for the full thing? For a bite-sized chunk of the real thing, the Valhalla event comes in at just over 4 miles (6.66kms!) and there's even a taster for the young ones with a one mile Little Devils Fun Run.
No registration fee
£175 minimum sponsorship