On Friday 31st August, a very special event was held at Leasowe Castle for our volunteers to celebrate the amazing achievement of receiving the Queen's Award for Voluntary Service. Our party 'fit for royalty' was attended by over 200 of our volunteers who enjoyed a delicious afternoon tea and listened to inspiring speeches and live music.
Also in attendance were Claire House staff and trustees (including CEO David Pastor) as well as representatives of the Crown from the Merseyside Lieutenancy, the Mayor of Wirral, Councillor Geoffrey Watt and the Mayoress, Mrs Anne Watt. All of which had the chance to chat with our dedicated volunteers and to personally congratulate them on receiving the award.
"At the very top of a formidable volunteering movement in the UK involving millions…"
In 2002 the Queen launched 'The Queen Awards', a series of awards to celebrate what the Queen considers is the 'Best of British'. Volunteering was recognised as one of the best traditions we have; freely helping others for no personal gain is one of the things that makes the Queen and us all feel very proud.
In December last year, we were told that Claire House had been nominated for the Queen's Award for Voluntary Service (the highest accolade a volunteer group can win, equivalent to an MBE). After undergoing a huge process, including a visit from the Lord Lieutenant of Merseyside, and a rigorous assessment, we were delighted to be told that Claire House had won the 2018 Queen's Award for Voluntary Service. As part of the award, we featured in the London Gazette and received a certificated signed by her Majesty the Queen and a crystal award (both of which were presented at the party).
The award honours all our wonderful volunteers, past and present, from those who became part of Claire House when it was just a dream to those who are integral in the running of our charity now – a fitting recognition of the effort, time, dedication and commitment that they give freely to Claire House.
Families who need Claire House at the worst time of their lives, are given a warm welcome on reception, homemade shortbread in the kitchen, a friendly smile at an event or a kind hello in the shops by our volunteers. Their outstanding contribution is truly invaluable to the work we do and who we are as an organisation.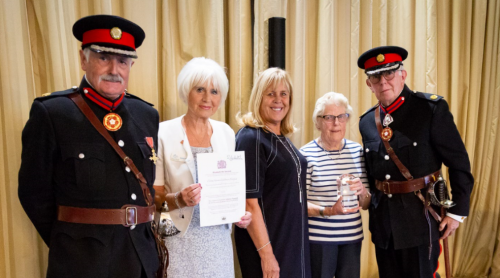 "If it were possible for every child that you've ever helped to say thank you, they would."
It was a proud and emotional event, particularly for some of our longest standing volunteers who "never in their wildest dreams" thought we would have over 900 volunteers today helping across two sites, in their communities and in care, retail and fundraising. United by one cause; to help seriously and terminally ill children and their families, they have been integral in allowing us to care for more children and families than ever before.
CEO David Pastor paid tribute to the outstanding contribution of volunteers, thanking "our trailblazers, our torchbearers, our pioneers, for standing together and fighting for this remarkable cause."
We simply couldn't survive without the support of our volunteers. So, a huge thank you and congratulations on behalf of everyone at Claire House. We're so proud to have you as a part of our Claire House Family!
Are you interested in joining the team? We always welcome new volunteers and would love to have you on board! To find out more visit Volunteering, email volunteering@clairehouse.org.uk or call 0151 343 0883.