Our Facilities
The facilities at Claire House have been designed to create a home from home environment, whilst enabling children and young people with often very complex healthcare needs to be cared for to the highest standard and to be able to access facilities and experiences that most other children take for granted.
The Claire House team get to know each and every child we care for, what they like and what makes them smile, whether that be in the hydrotherapy pool, or having fun in the 'Hub' immersive therapy or light room.
Facilities include:
Hydrotherapy pool
Hub immersive therapy/light room
10 individual bedrooms all with track hoisting (four of which are specifically for young people aged 13 upwards)
'The Den' and a separate lounge/dining room for young adults
A fantastic arts and crafts room
Wheelchair accessible vehicles to take children and young people out on trips
A large garden with wheelchair accessible outdoor activities, sensory and quiet areas
En-suite accommodation upstairs for parents to stay if they wish (this often helps for the first visits to build up trust and confidence in the care team)
Take a tour
Take a guided tour of the hospice with Danielle – a regular visitor to Claire House.
A day at Claire House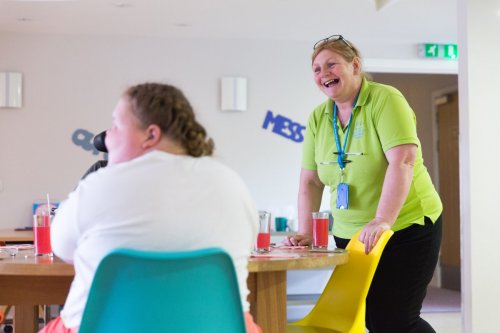 A day at Claire House
A day at Claire House is built around the individual needs of your child. We work closely with family and carers to build a care plan that fits your child's timings and routine.
The day begins. The day shift staff arrive. They meet with the night staff to discuss the needs of each child, how they slept and if they have any issues or problems. They also prepare for the arrival of new visitors.
Breakfast. Families who have stayed overnight enjoy breakfast together. This may be a rare occasion for them to enjoy a meal without having to worry about their child's medical needs; all of that is taken care of by our staff.
The children arrive. It can often take several hours to make sure the children are settled into their rooms and all their medical needs are taken care of. If it is a family's first time at Claire House, we'll spend time discussing what they'd like to get out of their time at the hospice.
Playtime! There is so much to do at Claire House and our visitors can entertain themselves however they want. We have our arts and crafts room, where everyone makes a mess with glitter and paint, or sensory room, where lights, texture and sound help children interact and make sense of their surroundings.
Lunch. Everyone sits down in the dining room to enjoy lunch. Staff, families and volunteers enjoy each other's company over a home cooked meal, made in our kitchens. Visitors will also often join us and there's plenty of room at the table.
The afternoon. Our families will continue to enjoy their time at the hospice. If the sun shines, our specially adapted swings and roundabouts are a winner or we cosy up with a DVD on rainy days. We often arrange a visit to the beach at New Brighton, go and see the animals at the zoo or take the older children shopping.
Dinner time is another opportunity for everyone to get together. Some of the children require considerable assistance or are fed through a tube, so it's often a busy time for the Claire House staff.
Evening. Each guest at Claire House has their own room and at least one nurse to make sure they're well looked after. There's no bedtime, or 'lights out' but children often start to drift off to sleep after a busy day.
The latest news on Claire House Liverpool…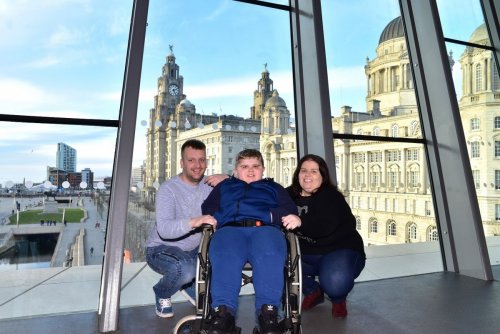 As many of our Claire House families may already know, we have found a new site in Liverpool.
The reason we looked for another site was because we have seen a 61% increase in the number of children and young people we care for in the past five years and we are struggling to meet demand.
Our research has shown that we are only looking after one in two of the children we could be within our catchment area. Also, many of you have told us that travelling to the Wirral is very difficult.
As over half of the children we currently support come from north of the Mersey, a site in Liverpool makes perfect sense to help us to reach out to more children and provide even more care across both hospices in the future.
The new site, that used to be a monastery, has masses of space and beautiful gardens. It is in West Derby and is perfectly located, close to Alder Hey.
We began offering some day services including day care and mums and tots groups in the Spring of 2018. The site also serves as a base for some of our fundraising, hospice to home and family support teams.
It is very important to reassure you that providing services from Claire House Wirral remains our priority alongside developing our plans to develop services in Liverpool.
In regards to opening a full hospice, this will take us some time. We have received outline planning permission which now enables us to start the process of developing a detailed plan for a new hospice. However, as with all our work, this project is very much dependent on the charity raising enough funds.
To turn our dream of opening a new hospice in Liverpool into a reality, we'll need your help.
In terms of what we would like you to do, our ask is simple – please spread the word that we are only reaching one in two of the children we could be and that Merseyside needs a new children's hospice.
We will also need your help in the years to come, whether that is in helping to shape the services we offer, telling your story to the media, helping with fundraising, doing some voluntary work or just telling your family, friends and local community about the importance of the support Claire House offers to your child and family and how they can help us achieve our dream.
If you have any questions please contact Jan Sutherland Oakes, Director of Care, on 0151 343 0883.