Sign up to win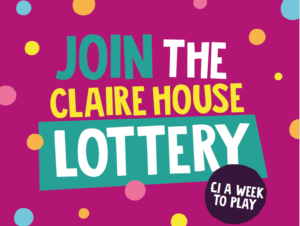 Help Claire House plan for the future with this fun and easy way to support your local children's hospice.
For only £1 per week you will be entered into our draw. Every Friday winners are selected at random with 41 prizes up for grabs and the chance of winning up to £10,000. Cheques are posted out directly to the winners, so you don't even need to claim your prize – it's that easy. You must be over 18 to enter. Proceeds from the lottery are unrestricted which means we can use it where we need it most, such as respite care and physiotherapy.
Claire House receives a minimum of 85% of all proceeds from the lottery, which is spent on our good cause work. 6% of proceeds go on prizes and 9% on expenses – data correct as of 30th June 2023
For the draw on 30th June 2023 the odds of winning were 1 in 687, please note that the odds of winning will vary each week.
Lottery Permissions
You can change your permissions at any time and opt out at any point in the future by contacting the Fundraising Office directly on 0151 343 0883.
Updates to your Direct Debit
Our direct debit system has been updated and you may find your bank statement now says L&Z RE Claire House for lottery payments.  If you have any further questions please contact us.
Recruitment Update
Claire House are out and about in the local community signing up new players to the Claire House Lottery. You might see our team at your front door, in your local bank, community event or one of many shops who support us. They'll be wearing Claire House branded clothing and will carry ID with them.
From time to time we may use external companies to contact you by phone to update you on the vital work Claire House is doing. They could give you details on signing up to the lottery or let you know of other ways you could support your local children's hospice. If you have any queries about this, then please call us on 0151 343 0883.
In accordance with the fundraising regulator, our teams can call up to 9pm, however Claire House will not knock after 7:30pm. Under no circumstances will our team ever ask for or accept cash. Our team will not knock at any homes that display stickers for no cold callers. A printable no cold caller sign can be found on the Martin Lewis website.