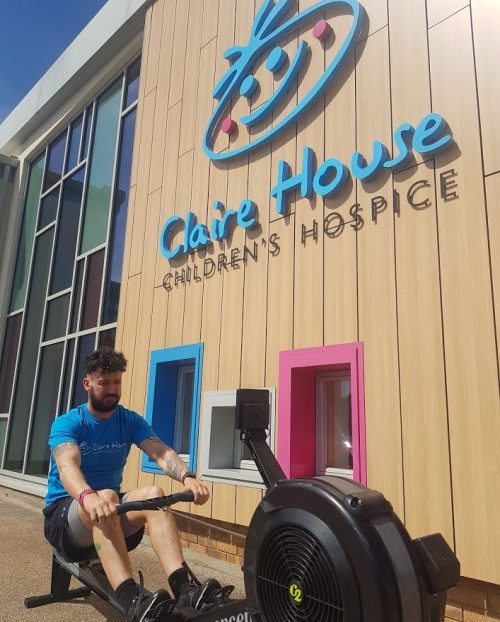 Local man Mark Tummon is rowing a marathon each day for 25 consecutive days to support Claire House Children's Hospice.
Mark, from Runcorn, is hoping to raise £10,000 and started the challenge earlier this month, doing his very first marathon row at the hospice in Bebington, Wirral.
On his first day of the challenge, Mark was joined by his cousin Emma Clark, who has been supported by Claire House.
Emma said: "Around two years ago, my husband and I were expecting twin girls and were so excited. At our 20-week appointment we sadly found out that one of our twin girls, Ana, had a problem with her kidneys and from that point, Claire House were with us every step of the way.
"We sadly lost Ana just after she was born and after leaving the hospital, we stayed at Claire House in their Butterfly suite with both girls as a whole family. At Claire House we could actually spend time holding Ana; these moments were so special and something that we as a family cherish every single day."
Emma's cousin Mark said: "Claire House were there for my family so I really wanted to give something back. Rowing 25 marathons in 25 days is a huge challenge and I've been training for a long time for this. I'll be doing the rows in a variety of different places in the community, and as well as raising money, I will also be trying to raise awareness of Claire House too, as what they do is a lifeline to local families."
Claire House are currently caring for more babies and children in the local community than ever before.
The support of people like Mark can help Claire House to increase the care they offer families in their homes and help more children at the hospice.
Mark Tummon's fundraising page is here:  https://www.justgiving.com/fundraising/babyana