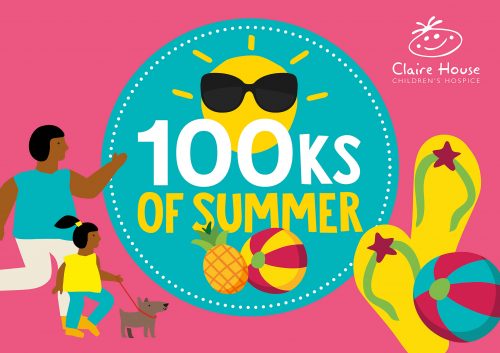 The nights are getting lighter, the days are getting longer and summer is not too far away.
The perfect time to take on a new challenge? We like to think so.
The 100ks of Summer is the perfect opportunity to get the whole family active, in whatever way best suits them.
How to tackle 100ks in 100 days?
All any challenger needs to do is either walk, jog, run or ramble 100ks in 100 days. So how does that break down?
That could be simply walking 1k a day.
Running or walking 5k 20 times, so every 5 days over the 100 day period.
Building up your distance: 2k x 10, 5k x 10, 10k x 3 = 100k
Running or walking 10k just 10 times.
Or 10k x 6 and 20k x 2.
If you are up for the challenge, what about 2 and a half marathons?
We do not ask for you to complete the 100ks in any particular way, it is completely up to you.
By raising a minimum of £100 you can help make a difference to the children and families we support. At Claire House, we would not be able to offer the care and do the things we do, without the support from people in the community.
We challenge you to cover 100ks in 100 days – your way!
So from Saturday 25th May, we are inviting you to take on challenge of walking, running or rambling 100ks over the 100 days of summer.
Sign up for 100ks of Summer here.
Share your photos and include #100ksofSummer!