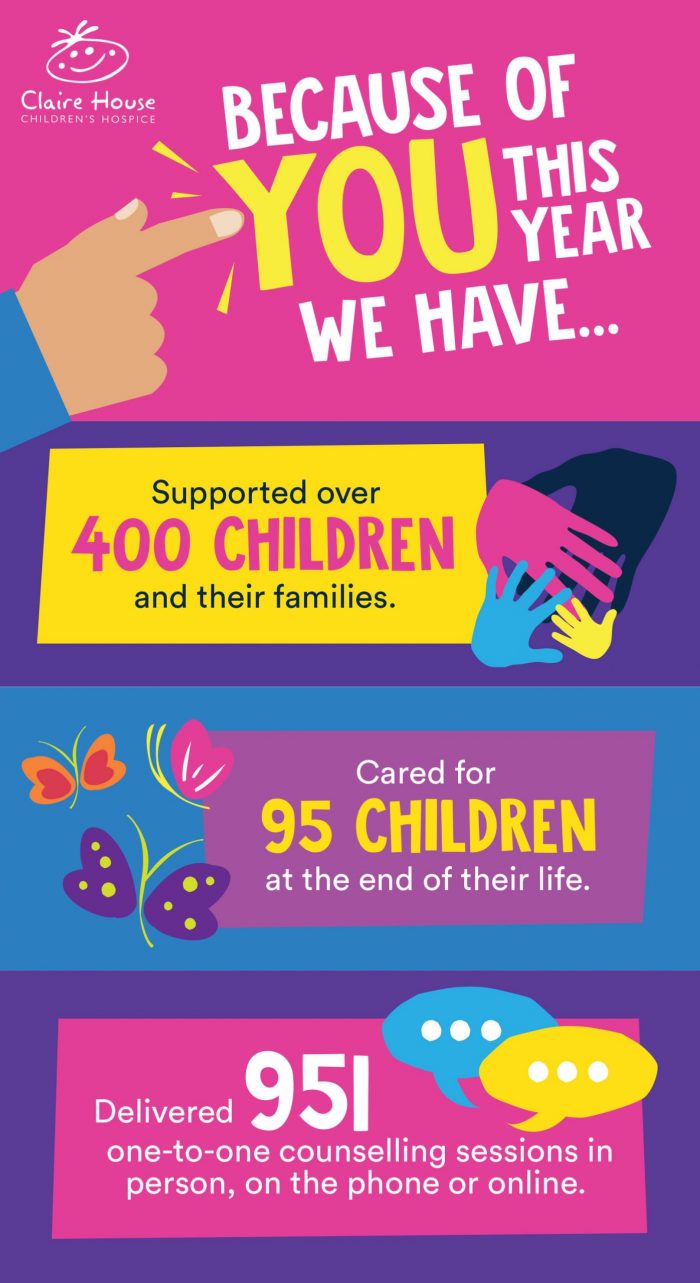 You were there when we needed you
During 2020 you kept the doors of our hospice open, which meant we were able to be there for over 400 families.
During the initial lockdown, care in the hospice was restricted to end of life care and emergency stays, but as restrictions eased we were able to offer respite breaks to families who were most in need.
This meant exhausted parents could have a rest or spend time with other siblings, safe in the knowledge that their loved one was safe and receiving the very best care.
You've made memories that will last a lifetime
Providing end of life care has been extremely challenging throughout the pandemic, but thanks to you, the team have been able to go above and beyond to ensure families are supported and have as many opportunities to make memories in a safe way.
We've made wishes come true; from pulling together girly pamper sessions to bringing Christmas early by creating a magical winter wonderland at our site in Liverpool, with snow, reindeers and a visit from Father Christmas. We've been able to help seriously ill children tick off bucket list activities and made the toughest of times that little bit easier.
You've helped when times were tough
Many of the families we support had to shield this year, but we were still there for them, through regular phone calls and play sessions via video calls to doorstep drop offs of food parcels and emergency supplies.
We continued to be there emotionally and therapeutically, providing counselling for our families virtually, so parents, grandparents and siblings continued to get the support that they rely on.
You kept them entertained
Because of you many teenagers and young adults have been cared for, supported and thoroughly entertained throughout 2020.
You have ensured that young adults have remained engaged and not isolated through virtual social groups and quizzes.
When restrictions allowed, we even put on a 24-hour gameathon with some of our young adults in the hospice, at our Liverpool site and at home.
This was an opportunity for a small group, many of whom have spent months shielding, to get together and enjoy themselves. There was lots of pizza, Mario Karts and FIFA and some very tired teenagers and staff, but everyone had so much fun.
You've brought smiles
Your support has brought smiles throughout what has been a very difficult year for many.
Whether it was singing Disney songs with Elsa, getting messy creating arts and crafts or reading sensory stories, both online or in the hospice our play team have ensured all the children receive play and activities that are tailored to their needs.
Which meant that despite the unprecedented times we've all faced, the children we support have been able to release emotions, feel stimulated and just enjoy themselves.
Thank you!
Everything we've achieved this year has been thanks to you, we are so proud to be part of a community that have pulled together. You have been there for us when we needed you most and for that we can't thank you enough.
The Claire House Care Team.