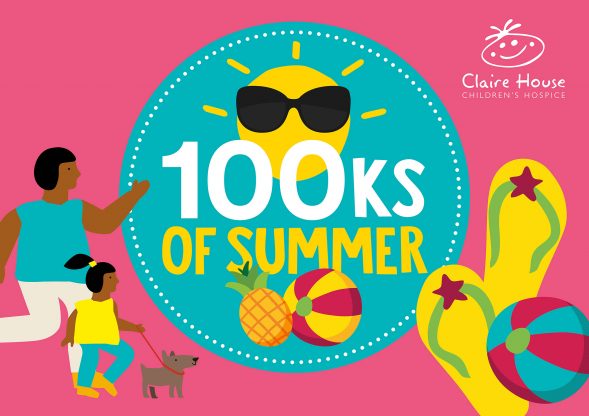 This Summer, step out for Claire House and run, walk, cycle or ramble 100 kilometres for your local children's hospice. From 1k a day to 2 and a half marathons, we challenge you to cover 100ks your way!
How does it work?
Registration is completely free. Just sign up by completing the form below!
We ask each challenger to run or walk 100k over summer and raise a minimum of £100 for Claire House.
After you've completed your challenge, send us proof of your 100ks and your sponsorship raised. If you've raised £100 or more, we'll then send you your super summery medal!
How can I reach my 100k?
You can do this however you'd like between 25th May – 1st September. Whether it's 1k a day or 2.5 marathons, it's up to you!
How do I keep track of my distance?
When you set up your online fundraising page with GivePenny, you can link your Strava account to track your distance. In your welcome email, we'll also send you a distance tracker to log your walks, runs, cycles or skips. If you prefer, you can use your preferred iPhone or Android app, website or wearable fitness tracker.
How do I fundraise?
The welcome email will include lots of ideas to help you fundraise, as well as a sponsorship form.
We would also strongly recommend setting up a GivePenny page to fundraise online and join our 100ks of Summer leaderboard!
*When registering for 100ks of Summer, you agree to the following:
By organising your own regime to run, trek or walk 100km, you are responsible for ensuring that you are fit enough to undertake the challenge and are safe at all times when taking part. As you are taking part in your own time and this is not an organised event, Claire House Children's Hospice cannot be held responsible for your safety in any way.  If you have any queries at all regarding undertaking this endurance activity, you must consult with your GP before you plan to run, trek or walk 100km over 100 days. If there are any changes in circumstances that would impact your ability to take part, you must notify Claire House Children's Hospice. By registering to take part, you are confirming that you are fit and able to run, trek or walk 100km within 100 days. If you are taking part as a family or if you are aged 15 years or under, Claire House must have written permission from a parent/guardian for the minors that are taking part. In order to receive your 100ks of Summer Medal, we first need to receive a minimum of £100 in sponsorship per person.