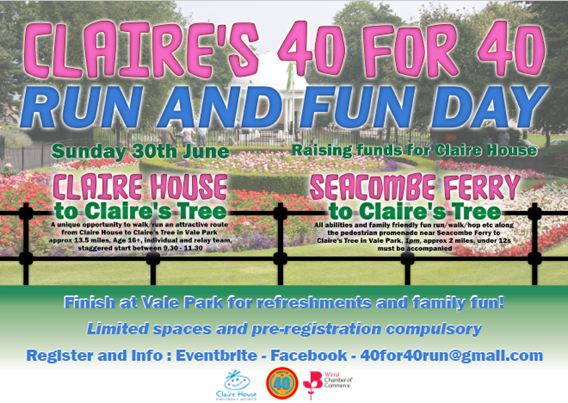 Join us for a special day to raise money in memory of a very special little girl Claire, for Claire House Children's Hospice.
There are 2 runs/ walks on Sunday 30th June 2019.
Claire House Children's Hospice to Claire's Tree
You can run/ walk from Claire House (CH63 4JD) to Claire's Tree in Vale Park (CH45 1LX).
The route is mainly on pavements, paths, parkland and the pedestrian promenade, including Dibbinsdale Nature Reserve and parts of the Wirral Circular Path.
You can participate as an individual or as part of a 3 person relay team. For ages 16 and over only.
Further details of the start including drop off instructions, relay & route information will be emailed to all participants in advance.
Walkers start at 9.30am. Runner will have a staggered start between 10.30am & 11.30am.
Seacombe Ferry to Claire's Tree Family Fun Run
You can walk/ run/ hope/ space hopper from the start of the pedestrian promenade at Seacombe Ferry to Claire's tree in Vale Park.
This is for all ages and anyone under 12 years must be accompanied by an adult.
Please arrive 20 minutes before the start to check-in and receive your run number.
All participants for both runs are invited to the bandstand area in Vale Park afterwards for a fun day!
This event is part of the Claire's 40 for 40 special year of fundraising for Claire House organised by Claire's friends and family. We ask all participants to raise sponsorship money for doing the event or add a further donation on the day, whether it is £10 or £500, every single penny will help to make a difference.
If you are setting up a fundraising page (e.g. Just Giving) direct your funds to Claire House and in the description add 'Claire's 40 for 40 or C40RES'.
To sign up for any of the above events please click HERE