Our Clinical Therapies Team offer physiotherapy and occupational therapy for children and young adults across both the Wirral and Liverpool sites, and where necessary, in the community.
The team liaise closely with community teams to ensure continuity of care for the children and young adults.  They also attend clinics and appointments with other medical professionals to support families where appropriate.  They offer advice for families via telephone or email regarding any therapeutic interventions that Claire House can support.
The Physiotherapists can provide aquatic therapy for the children and young adults during respite or as outpatients. They also support the respiratory management of children either acutely and/or long-term, working alongside respiratory teams within the hospice or in the community. They provide 24-hour postural management support; including sleep systems and offer moving and handling advice for all the children and young adults.
The Occupational Therapist can support families with specialist equipment and seating and offer postural management support to help the children and young adults engage with activities. They also provide sensory processing assessments and support children and young adults to participate fully in day to day events.
The team also has a Therapy Assistant that supports both the physiotherapists and the occupational therapist. They also facilitate the running of Family Splash sessions, where families can access our hydrotherapy pool, so the whole family can go for a dip!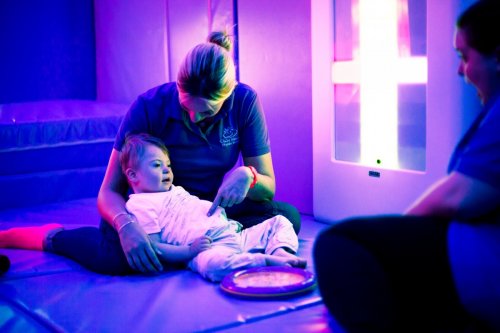 When possible, the team will work collaboratively with our play specialists, music therapists and complementary therapists to provide a holistic approach to therapies, providing the best experiences for the children and young adults that access our services.