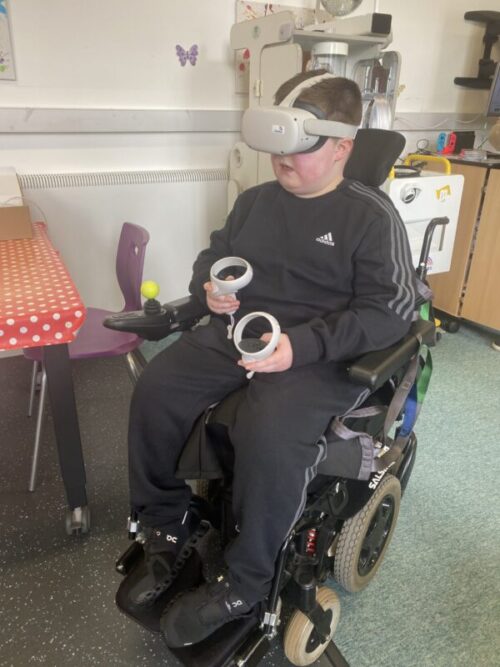 Claire House Children's Hospice is delighted to have received life-changing technology worth thousands of pounds from Lifelites children's charity. It will be used by the seriously and terminally ill children from Merseyside who use the hospice's services at its Liverpool site.
This is Claire House Liverpool's second Lifelites donation, after receiving its first package four years ago. The specialist technology will give children the opportunity to do things they never thought possible, enabling them to play, be creative, control something for themselves and communicate.
The technology includes: a 'mobile magic carpet' which enables children to play with images which can be projected on to the floor, wheelchair tray or bed. Eyegaze games, creative and communication apps to help children to communicate and take control for themselves, using just the movement of their eyes. A sensory play tent that comes with colourful lights and relaxing music to provide a calm environment, as well as a virtual reality headset and iPads.
Director of Clinical Services, Janet Sutherland Oakes said: "This equipment will make such a massive difference to the children who come to Claire House. It is amazing to see how technology can have such a positive impact on children's lives, helping them communicate, relax and have fun. One little girl who came to Claire House was even able to communicate with her parents for the very first time using Lifelites Eyegaze technology. That really was a lifechanging moment for that family."
Lifelites chief executive, Rob Lightfoot said: "We are delighted to continue our partnership with Claire House. As the needs of the children and families using their services change and become more complex, Lifelites has responded by providing an extensive package of the latest assistive technology. With over 20 years' experience, we know that these technologies will empower children and young people with life-limiting conditions to engage and interact with the people they love and enjoy the world they live in. We hope that this support helps them to create many joyful memories."
Lifelites will also help maintain the equipment and train staff on how to use it. The charity was only able to donate this package of technology due to the generosity of supporters including: Price Parry Charitable Trust, Pilkington Charities Fund and Chrimes Family Charitable Trust.