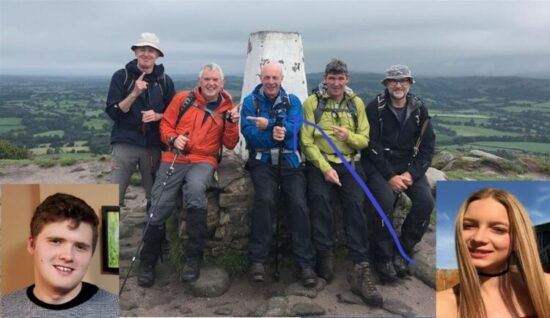 Last year John Connell, Gary Dunn, James Kelly, John McDonogh and Brian Temple trekked across Hadrian's Wall and back for Claire House, raising £5800. This Summer, the group are upping the mileage and hoping to raise even more in aid of Claire House.
On 20th June, they set off on an epic 180 mile hike along St Cuthbert's Way and St Oswald's Way, trekking for fourteen days.
St Cuthbert's Way is a 100km trail bridging the Scottish and English border and St Oswald's Way follows the Northumberland coast, before the group finish in Hexham.
This year, they are aiming to raise £7,500 and are fundraising in memory of two young adults who were supported by Claire House, Isabelle McEgan and Owen Copland.
Owen, from Maghull, was diagnosed with a brain tumour in November 2020 and passed away in December 2021, aged 21, and Claire House supported him at the end of his life.
Isabelle, from Prescot, was diagnosed with a cancer found in the kidneys in Summer 2019, while she was working as a team leader at Camp America. Izzy returned home, and was cared for by Claire House. She passed away, aged 20, in May 2020.
Events Fundraiser Mark Pearson said: "Claire House are always here for people like Owen and Isabelle, but this is only possible because of individuals in the community who donate or fundraise for us. It's incredible that John, Gary, James, John and Brian are fundraising for us once again to support the charity and ensure that we can continue to be there for local babies, children and young adults when they need us the most."
To support their challenge, you can sponsor them by clicking here