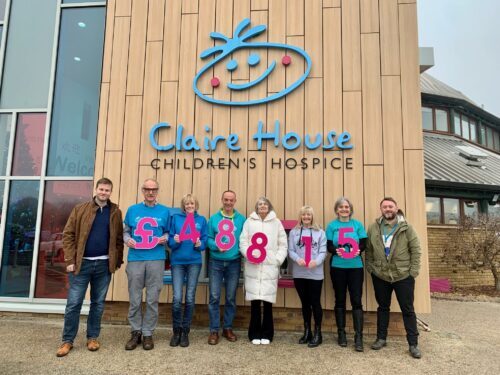 Claire House was named the Official Race Charity of the mbna Chester 10K, Essar Chester Half Marathon, and mbna Chester Marathon & Metric Marathon in 2022. Runners across all events raised an incredible £48,815.14 for the Bebington-based children's hospice.
The Chester based running events are organised by Active Leisure Events, who visited Claire House this week to celebrate the incredible fundraising total with charity volunteers and Stewart McKie, from Chester, who ran all three events this year, raising £5,000 for the hospice in memory of his son Fraser.
Claire House is the local children's hospice for Wirral, Merseyside, Cheshire and North Wales and cares for babies, children, young adults and their families who are seriously or terminally ill.
Events Fundraiser Mark Pearson said: "Claire House was so proud to be the Official Charity of the mbna Chester 10K, Essar Chester Half Marathon, mbna Marathon & Metric Marathon in 2022 and the money raised is phenomenal.
Our care team are working twenty-four hours a day in the hospice or out in the community, caring for local families who need us most. The money raised will help us to continue to be here for every child that needs our expert care. In 2022, we cared for over 400 children and their families, and this is only possible because of partnerships like this."
This was echoed by Active Leisure Events Race Director Andy White: "We're thrilled to have raised such an incredible amount for Claire House, who we were proud to have as our official race charity for 2022. We would like to take this opportunity to thank all our runners, volunteers and supporters who help us to raise these vital funds for such an amazing local charity".
Stewart McKie ran all three events in the 2022 Chester Triple series, in memory of Fraser, who sadly passed away in June 2021, aged 19 months, from a rare genetic condition.
Stewart, who first started running in 2021, said: "Claire House was one of the places that Fraser was happiest, and they provided the very best care for Fraser and us all, and continue to do so.
As I'm from Chester, it was great to run in these events and it is so important that people run and fundraise for local charities like Claire House, as their support simply wouldn't exist without people in the community fundraising."
Claire House would like to invite anyone interested in running for the charity in 2023 to visit their website, clairehouse.org.uk