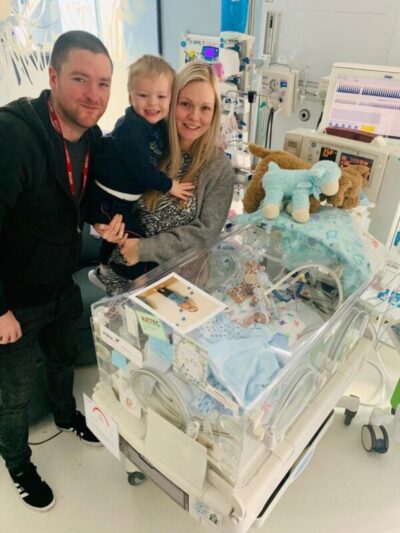 The family and friends of Noah have kindly fundraised to pay for a full day of care at Claire House in his memory on Wednesday 7th June.
Mum Lynsay, said: "When Noah was born on the 15th February 2022 our hearts were filled with love and happiness. But things were very hard from the start and being on the neonatal unit was the most difficult experience.
"But straight away we received the most amazing support from Claire House particularly Paula who visited us regularly at the hospital and helped us to create such special memories with Noah.
"Our hearts were then broken and we lost our beautiful Noah at 15 days old and didn't know where to turn.  But Claire House were amazing and helped us every step of the way. We went from the hospital to stay in the Butterfly suite with Noah and his big brother Jacob.
"Here we got to have precious time as a family along side lots of support from the most amazing butterfly team, counsellors and Holistic Therapists.
"Since then they have supported us every step of the way and words will never explain how grateful we are to them.
"We wanted to help Claire House as they have helped us and also keep Noah's memory alive. We have done this through a Claire Bear 3k, Scouse 3k completed by Jacob, Spring 10k, and then to celebrate Noah's first birthday a children's fundraiser and Noah's Gala.
"We have been blown away by the generosity of our friends and family who without their support this wouldn't be possible and we thank them from the bottom of our hearts.
"We love Noah with every part of us and miss him every second of everyday. Today we are so proud that Claire House can operate in Noahs memory.
"Thank you so much Claire House for everything you have done for our family. It is the most amazing place filled with the kindest people we have ever met and we will continue to support you in anyway we can."