No matter what age, fundraising can be great fun! Whether you are part of a nursery, school, college or university, or a young person that wants to make a difference yourself, there are so many different ways you can get involved and raise money for the poorly children and families at Claire House!
£20.18 could help pay for an hour of a nurse like Lou.
Read more about Lou in our School Fundraising pack here.
Ways to fundraise
We have three main school fundraising events each year. Our Butterfly Bake in March, The Claire Bear 3k throughout the summer and Christmas Hat Day in December. Click here to find out more.
Or you can run your own event!
Let your imagination run wild. You could:
Hold a non-school uniform or dress up day, put on a quiz or disco, take on a challenge- maybe 100 push-ups or climb a mountain, sell toys or cakes or put on a show.
Whatever you choose to do, we can support you. Get in touch with fundraising@clairehouse.org.uk to let us know what your plans are and to request extra resources such as t-shirts and bucket labels.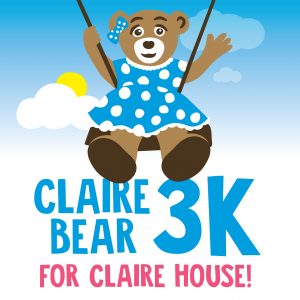 School resources
We have a wide variety of ever growing resources for schools and young people below that you can use and adapt in any way you choose. If you would like any help or advice on how to use these resources, please get in touch by emailing fundraising@clairehouse.org.uk.
I can be ANYTHING project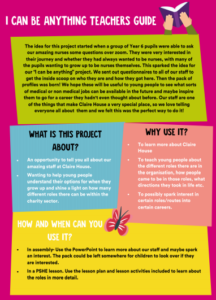 This project began after a group of Primary School pupils asked some amazing questions of our nurses in a virtual meeting. They were so interested in the jobs of our care team that we decided to ask a wide range of staff some questions with a focus on future careers. This pack can be used to look into different career paths in the charity sector and to learn more about Claire House!
Click here to access our Primary School Pack
Wellbeing Lesson Plans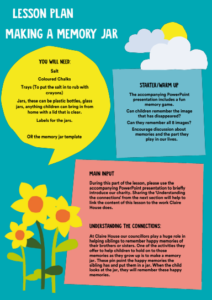 Wellbeing is a top priority here at Claire House so we have come up with some lesson plans for schools that follow the same ethos that we use at Claire House! Children can learn a little about Claire House whilst also looking after themselves.
Mental Health first aid kit– build a first aid kit that helps on the days where you don't feel yourself.
Memory jar– make something that reminds you of the happy times when you don't feel so happy.
Claire Bear Colouring Sheets
We have four Claire Bear colouring pages to choose from. Tag us in your colouring creations on social media @clairehouse , we would love to see them! Download them here.
Share our videos
Learn more about Claire House in School by watching these videos
And learn all about our nurses with this video
Makaton Workshop Pack
Download the videos in this pack to learn what Makaton is, why it is important, some basic sign language and even a song in Makaton! Just watch the videos in number order to join in.
Talks, workshops and assemblies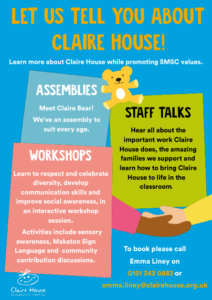 We can provide virtual or in person assemblies, workshops or talks to a variety of different age groups and settings. These are free and always pitched at the right level for each audience. Our workshops include sensory awareness activities and basic Makaton sign language. We can bring Claire Bear along in person too! If you would like to book a visit, please fill in this form.
Become a Claire House Advisor
If you become a Claire House Advisor, you will be helping the fundraising team to make important decisions about new events, resources and ideas. You will be asked to give your ideas and opinions once every few months via email on the newest ideas they have had for young people!
Could you tell us your thoughts on a new medal design? Or tell us how we can improve one of our events for young people? Then we want you on board! Email fundraising@clairehouse.org.uk to apply.
We also have a fantastic awards programme that you can work through – click here to learn more.