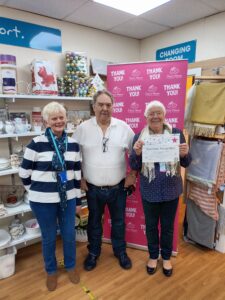 Calling all Interior lovers, 'Handy Andy's' or Hinch cleaning fans; If you've been looking to volunteer, and you love to help people, enjoy a spot of cleaning or DIY, this could be the role for you.
Our Ellesmere Port store now focusses on selling household items and furniture, including lamps, household electricals, and has some amazing items on offer. Our new roles are an exciting opportunity for anyone looking to meet new people, learn transferable skills and develop retail experience.
These roles include; pre-retail, which is the preparation of stock items before they go onto the shop floor, steaming, cleaning, waxing, dusting, making our stock gleam and shine, ready for it's debut on the shop floor.
Shop floor and customer buddies, these roles could include some shifting of lighter furniture around the shop floor, helping to create displays around the shop, and helping customers with their orders and payments. (full training will be given).
If you like to meet new people and are able to give a few hours to volunteer, we would love to welcome you on board.
Volunteers will be part of a friendly and supportive team. Claire House is committed to enabling and empowering our volunteers to utilise their existing skills whilst learning and developing new skills.
You will be the face of Claire House in the local community. And by volunteering, even just a couple of hours a week or month, you'll be helping to support the children and families who come to Claire House and making a huge difference.