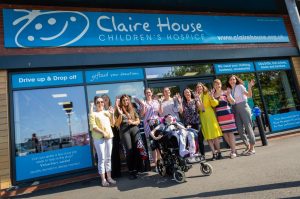 Our Great Homer Street Charity Shop is based in a busy part of Liverpool, near to the City Centre, it's always busy and full of fantastic stock, raising vital funds for Claire House.
We're looking for friendly volunteers to help us with sorting through stock and donations, while we're also recruiting for volunteers to serve customers on the till. These roles would be an exciting opportunity for anyone looking to meet new people, learn transferable skills and develop retail experience.
Main tasks could include:
Sorting through donations and stock.
Steaming and tagging stock.
Hanging stock ready for the shop floor.
Taking and processing payments.
Hanging out stock on the shop floor.
General shop duties.
Volunteers will be part of a friendly and supportive team. Claire House is committed to enabling and empowering our volunteers to utilise their existing skills whilst learning and developing new skills.
You will be the face of Claire House in the local community. And by volunteering, even just a couple of hours a week or month, you'll be helping to support the children and families who come to Claire House and making a huge difference.
Stock Sorting role: We currently have availability on a Thursday, so if you have any free time, we'd love to hear from you.
Through the Tunnel: If you're based on the Wirral, but like the sound of volunteering at our Great Homer Street shop, it might interest you to know that a number of our stock sorting volunteers come to volunteer over from the Wirral, as they live close to the Wallasey or Birkenhead tunnel. They enjoy volunteering in the shop so much that it's worth the short journey through the tunnel.