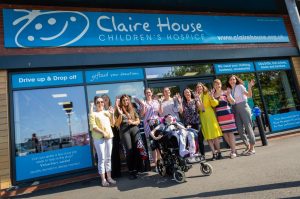 "I love volunteering in the shop, sorting through donations and meeting new people, what could be better?" 
Do you love a mooch in the charity shops? are you an organiser who loves to get stuck in? If this is you, then you'll love our stock sorting role. We're looking for friendly stock sorters to join our Great Homer street shop. This exciting role will help our Great Homer street team with sorting through donations, steaming and hanging items ready for the shop floor.
This is an exciting opportunity for anyone looking to meet new people, learn transferable skills and develop retail experience.
Main tasks
Sorting through donations and stock.
Steaming and tagging stock.
Hanging stock ready for the shop floor.
Tasks could also include;
Taking and processing payments.
Hanging out stock on the shop floor.
General shop duties
Volunteers will be part of a friendly and supportive team. Claire House is committed to enabling and empowering our volunteers to utilise their existing skills whilst learning and developing new skills.
You will be the face of Claire House in the local community. And by volunteering, even just a couple of hours a week or month, you'll be helping to support the children and families who come to Claire House and making a huge difference.
About Claire House
Claire House Children's Hospice helps seriously and terminally ill children live life to the full by creating wonderful experiences and bringing back a sense of normality to family life. By providing specialist nursing care and emotional support we help families smile again when life couldn't get any tougher.