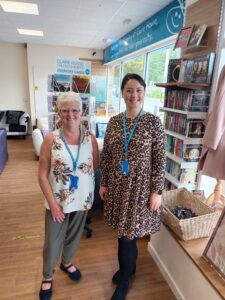 Our Hunts Cross charity shop is based within a busy retail park, and sells a mix of furniture and house hold goods as well as having a great stock of clothing, shoes, toys and books.
Our welcoming Hunts Cross shop, are looking for friendly volunteers to join the team, to help with sorting through donations and serving customers on the till.
This is an exciting opportunity for anyone looking to meet new people, learn transferable skills and develop retail experience. This is a flexible role to fit around you, and could either be something your looking to do regularly, or it might be you'd prefer to help out on a more ad-hoc basis. We'd be happy to have you on board.
Main tasks could include:
Sorting through donations and stock.
Steaming and tagging stock.
Hanging stock ready for the shop floor.
Taking and processing payments.
Hanging out stock on the shop floor.
General shop duties
Volunteers will be part of a friendly and supportive team. Claire House is committed to enabling and empowering our volunteers to utilise their existing skills whilst learning and developing new skills.
If you're interested in the role please apply below, or you can ask any questions by e-mailing Jess, at Volunteering@clairehouse.org.uk
Or you could pop by your local shop to say hello.