Are you a people person, friendly, outgoing and love getting to know someone. Then this exciting role is for you. We're looking for outgoing customer buddies and till operators to join our Frodsham shop. This role will help    customers with shop queries, helping them shop, find the perfect outfit, or just have a friendly chat. Volunteers will help with taking p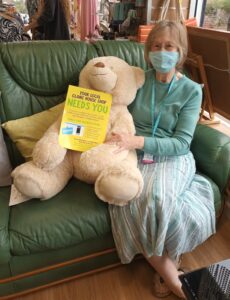 ayments, organising the shop, and being on hand to provide a fantastic Claire House customer experience.
Main tasks
Providing a unique customer experience to shoppers.
Helping customers find what they are looking for.
Taking and processing payments.
Hanging out stock on the shop floor.
General shop duties
Volunteers will be part of a friendly and supportive team. Claire House is committed to enabling and empowering our volunteers to utilise their existing skills whilst learning and developing new skills.
You will be the face of Claire House in the local community. And by volunteering, even just a couple of hours a week or month, you'll be helping to support the children and families who come to Claire House and making a huge difference.